Tired of your marketing getting little results?
Get the 5 steps to get more subscribers, engagement, and SALES this week! (And make it EASY!)
How To Stop Wasting Time in Your Business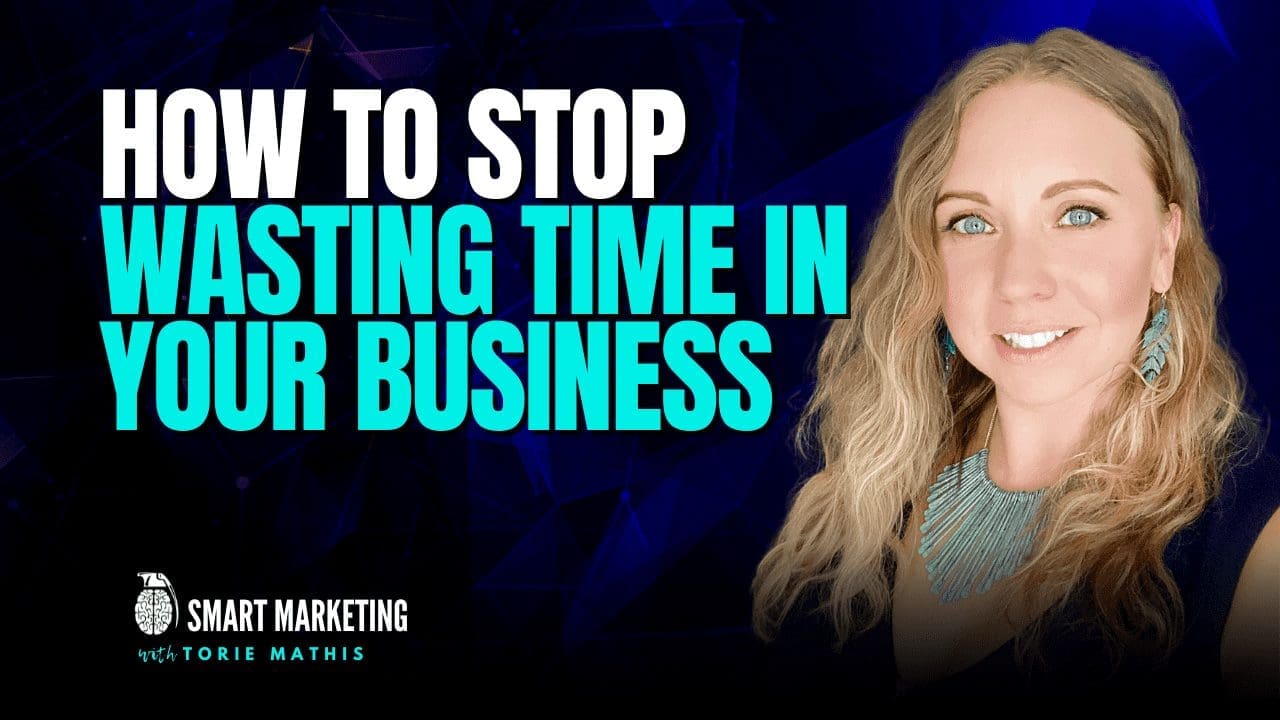 How To Stop Wasting Time in Your Business 
One of the most simple and effective ways to make your business processes more efficient is to find activities that are wasting time your time and eliminate them. You can do this by streamlining, tightening up, delegating, outsourcing, or (my favorite) automating tasks. But first, you must figure out what tasks are draining your time.
Start With A Time Audit
You can most likely guess where you're spending the majority of your time, but the only way for you to know for sure is to do a time audit. This means logging your time for a set period to gather specific and objective data. You can do this on paper or with software that allows you to log your time. Either way works, as long as you note what you are doing each day for several days. It's best to break down the day into 15 – 30 minute increments and jot down each activity you do. And the results may surprise you.
Look at Time Spent vs. Actual Results
Take a look at all the activities where you spend the most time. Do these activities produce the most results in your business? What you most likely will find is that you are spending a large amount of time on activities that produce little results. Meanwhile, the activities that produce the greatest results for you aren't getting near the time they need and deserve.
Why Your Not Getting Things Done
What you might have found is some tasks are taking way too long for YOU to do them. So what's going on here? It may be that there is a part of the process that is bottlenecked, or this task just may not be your strong point (hey, we all have them). And worse, the tasks may not be ones that are even bringing you results. And because of your time being taken by these tasks, you're not getting done what you need to get done. Lots of admin and repeatable tasks usually fit this bill. When you find these, you may want to think about ways to pass the torch by delegating or by outsourcing.
The Biggest Time Wasting Culprits
Let's look further into what kind of tasks may be wasting your time. Here are a few ideas on what to look for:
Activities that don't take your specific skills or expertise. 
These are tasks anyone with a little training can do. These are all the things you may have needed to do when you first started but no longer should be doing them. They can include administrative tasks, updating your website, social media or blog posts, or answering simple emails and phone calls. If you want to be more efficient, you should only do the tasks that only you can do; or at least start to aim this way.
Tasks you can do with your eyes closed
Just because it's easy for you to "just do" doesn't mean you should be doing it. If you can simply do tasks without thinking, it means you can get someone else to get to a comfy point with them too. Start to pay attention to these types of activities you just do on autopilot. These can be easy things like picking up mail, filing or customer service.
Tech tasks that can be automated. 
Take a look at the technical tasks you regularly do and see which of them can be automated. You'll find that many tech tasks these days can be easily automated, saving you hours a week easily! These tasks can include welcome emails, social media posting, or appointment scheduling and reminders.
Meetings that aren't totally necessary. 
You became a business owner to do your own thing – and that means getting away from all those pesky meetings you were forced to do. How easy it is to get swept right back into meeting mode. Unnecessary meetings not only waste tons of time, but they can also set up the expectation that your time is not important. If a meeting could be an email, then make sure you communicate that. If someone else can attend non-essential meetings, then delegate away. Your time is important and finite, so take good care of it.
Meaningless communications. 
Same as meetings, delegate someone to manage communications that are not necessary to be you. They can filter your communications and only contact you when it's required. This can include phone calls, mail, emails, and even visitors.
Unexpected visitors.
Having visitors can be a nice break to the day, but an unexpected visitor can derail your entire day. Ask people to make an appointment with you ahead of time so that your time is respected and your important tasks aren't derailed.
Lack of prioritization
Tackle your most important tasks first to make sure they get done and receive your best attention and energy. For example, instead of answering each email as it comes, deal with your inbox in order of priority.
If you take the time to make these changes to your business processes, you can save yourself a ton of time later on. First, map out each of your processes and find where time is being wasted. Then, you can figure out how to tighten up processes and start to make the most of your time.
Do you want to learn more about working smarter and more efficiently? Check out Ep. 68 How To Clone Yourself and sign up for my weekly email full of actionable advice on using your time and money better.
About Digital Marketing Expert Torie Mathis
Torie Mathis helps entrepreneurs, like you, use digital marketing to grow your business without wasting time, money, or your sanity.  She is a best-selling author, Army veteran, speaker + trainer, and your digital marketing coach. You don't need crazy tech skills, buckets of cash, or dedicated staff to market your business. In fact, you don't even need a lot of time. What you need is to be SMART.
Torie hosts SMART AF, a show for non-techy entrepreneurs looking to grow their business, with her husband Sean and is the creator of SMART AF Magazine. Learn from Torie at the Smart Arsenal and on her channel.
I help entrepreneurs (like you) use digital marketing to get more clients + to make more money. And I make it easy! 
You don't need crazy tech skills, buckets of cash, or dedicated staff to market your business. You don't even need a lot of time.
What you need is to be SMART.
DELIVERED TO YOUR INBOX
from your Digital Marketing Coach Torie Mathis!
Let's get SMART!