A SALES FUNNEL WILL GROW YOUR BUSINESS WHILE YOU SLEEP
When you let sales automation software do the heavy lifting you can get more done with less work.
Why You Need a SALES FUNNEL
Your sales funnel should be one of the key parts of your business, no matter what market you're in. It's the process of moving people from an unaware prospect to a loyal customer.
In fact, some businesses focus the majority of their efforts on perfecting their sales funnels and little else. Once you have a great product and service in place, success is most often a result of the sales funnel itself. And it works for you on autopilot, 24/7/365.
SAVE HOURS TRYING TO DO IT ALL MANUALLY
A PROVEN STRATEGY TO GET LEADS ON AUTOPILOT
What Is a Sales Funnel? Why Is It So Important for Your Success?
The term' sales funnel' is an important marketing concept for all types of businesses.
Your Sales Funnel is What Moves Customers to Purchase Your Services or Products.
As they are led through your funnel, they transform from a random lead to a qualified prospect and, finally, to a buyer.
As the funnel begins to narrow and prospects get to your paid offers, they are already primed and ready to buy.
The Sales Funnel Explained
The sales funnel is a sieve that moves prospective customers through your sales process. It casts a wide net and then gradually and automatically weeds out the unqualified prospects that are unlikely to buy your products.
As the word 'funnel' suggests, it's wide at the top (the entry point) and then narrows at the bottom (the point of purchase). At the very top, a sales funnel attracts your casual website visitors through a special offer, a lead magnet, that entices them in.
You then use marketing techniques, like email marketing and one-time offers, to show them other deals. This lets you gather information and each touchpoint gets them to know like and trust you, making them more likely to buy even your most expensive offers.
Why Use A Sales Funnel
 Sales funnels are important for several reasons.
First, funnels make the sales process more efficient. Since only the qualified buyers get to the end of your funnel, you don't waste time dealing with uninterested tire kickers. Much of the process happens automatically with your software.
Let's look at how this works.
An Example of a Sales Funnel
Let's say you have a business that sells materials and information for rooftop gardening. So you create a website with a blog about green rooftop gardening that has a form on the sidebar where your visitors can sign up for your email list and receive your free ebook on gardening from their rooftop.
Once a visitor downloads the ebook, you begin to market to them through emails, offering them exclusive content, some helpful tips, and special offers.
These offers gradually increase in price, leading them to your main product, a comprehensive kit of rooftop gardening information and supplies with a high price tag.
At first, the visitors find and read your blog to get information about rooftop gardening. At this stage, they may just be considering the option of starting their own garden.
Those who sign up for your email list are even more interested, and the ones that take advantage of the email offers are seriously ready for ways to start a rooftop garden.
The people in this segment of your email list are the most likely to buy your gardening kit, and therefore you begin marketing the kit to them, all automatically.
A sales funnel will do the heavy lifting for you.
Your Sales Funnel Helps You Drive Them Away
Another important concept to remember about your sales funnel is that you don't need to, and shouldn't, appeal to everyone.
You only want to focus on those who are actually interested in your products.  When you lose email subscribers, that's a good thing (as long as it's not too many) because why waste your time with people who will never buy?
🤩 That's the magic of your sales funnel in action.
Key Components of a Sales Funnel
For your sales funnel to work, a few key elements need to be in place. First, you need to consider what offers you make. These offers should gradually increase in price or in commitment as you begin to weed out those who aren't interested in buying your main product. 
Next, you need to decide the ways in which you will keep in touch with your prospects to further qualify them. Through your offers and emails, you should be able to get the prospect segment of your list down to only serious buyers.
Your sales funnels are the first step to a long relationship.
By the time you get to the bottom of your funnel, you should have an email list of loyal customers that you can sell to over and over, assuming you nurture those relationships.
There are several different ways to go about making your first offers.
Some of the most common include: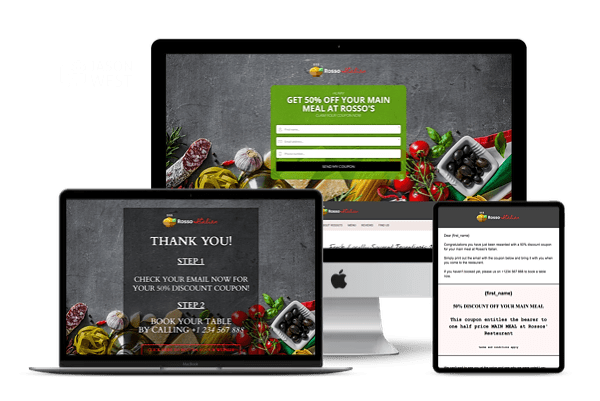 Freebie Opt-Ins
A freebie opt-in is a free item usually offered in exchange for a person's name and email address. This lead magnet is the entry point to your funnel. Your potential customer wants the free item product, so they 'opt-in' by giving you their information. You can then begin to market directly to them through email.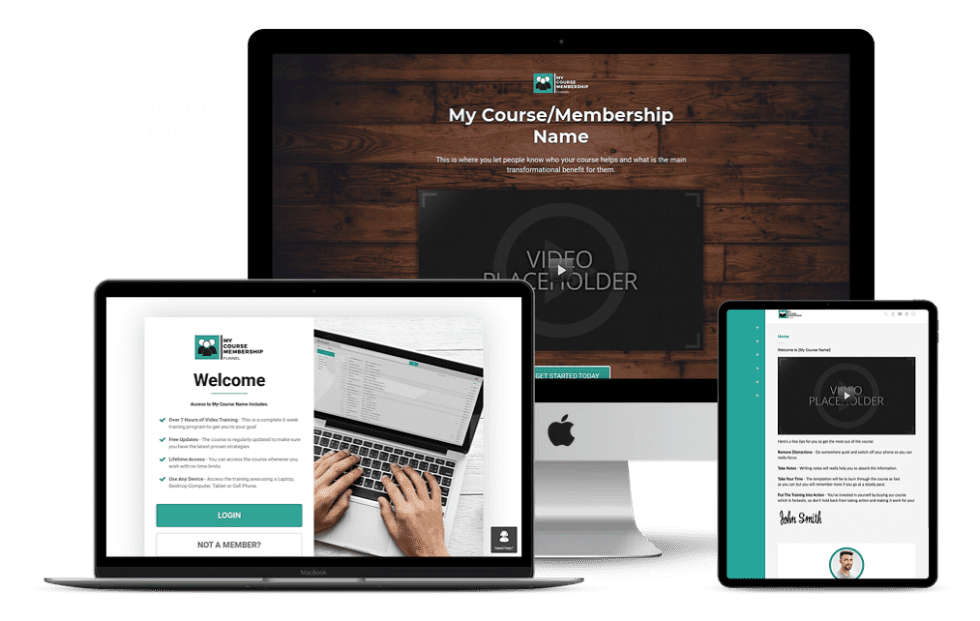 Subscriptions
Subscription products are usually low-priced but more profitable for you because you charge an ongoing monthly fee to your subscribers. It's much more difficult to get people to pay for a subscription, though, so the content you're offering has to be unique and valuable. But if clients are willing to pay your monthly fee, they'll be even more likely to buy your high-ticket products.
One-Time Offers
One-time offers are perfect because they imply a level of urgency that gets people to take action. These offers tell the visitor that once they click away, the offer expires forever. That means they have to sign up and/or buy immediately, or they will lose their one and only chance to get it.
It's important that you keep in touch with prospects.
They shouldn't only hear from you when you're trying to sell to them. These follow-up emails you send to your subscribers should always offer them helpful, valuable content. The purpose of these emails is to stay top of mind and build a relationship with them. This is where they begin to know, like, and trust you.
THE THANK-YOU PAGE
The first step in doing this process is your 'thank you' page. This is a small detail, but it's very important. After they sign up for your email list or purchase your initial front-end product, you redirect your customer to a page that thanks them for signing up and/or making a purchase. But that's not all.
ONE TIME / UPSELL OFFER
You can use this opportunity, right on the thank you page, to make another offer or even provide more free content. Present them a one-time offer, an upsell, an invitation to a strategy call, registration details for a webinar, or another offer. Use a tactic that will help to further qualify them. You know you have a serious buyer if they immediately take you up on your second offer.
Remember the shape of the funnel – widest at the entry point and gradually narrowing toward the main purchase.
Because you attract as many people as possible to start so, the landing page where you make your first offer should be search engine optimized in to direct as much traffic as possible to your offer.
What kind of funnel do you need for your business?
All sales funnels have the same characteristics and basic shape
– widest at the entry point and then gradually narrowing as your prospective customer moves through it. Each funnel may be similar, but no two are exactly the same. You have a variety of options when it comes to working out the specifics that work for you and your business.
4 Steps to Set Up Your Sales Funnel
Step 1: Research Ideas
Before you begin thinking about the specifics of your funnel, there is some important research you need to do.
First, make sure there's a market for what you're offering. No matter how enticing your offers seem or how well-crafted your sales funnel is, you won't succeed if there isn't an eager crowd for the products you are offering.
Step 2: Research the Competition
It's always good to check out the sales funnels of your competitors. The point of this isn't to get ideas but more to find gaps and missed opportunities with their sales process and offers. You've got to offer your prospects something unique that your competitors don't offer.
And the best way to do this is to go and sign up for your competitors' list and see their sales process from the point of view of a potential customer. You should also take advantage of a couple their offers to see what you're up against. You'll be able to see not only their sales funnels but also the quality of their products and service.
Each sales funnel is similar, but no two are exactly the same.
Step 3: Brainstorm Your Sales Funnel
Once you research your market and your competition, start
brainstorming what you'll do with your own funnel. First, brainstorm potential offers. Knowing what the competition is offering will help you target what your market could really use. What kinds of offers would help you qualify your potential buyers? You can consider freebies, low-ticket offers for your front-end, mid and large-ticket offers for the back-end, and don't forget your one-time offers.
DON'T FORGET: Traffic Sources
You'll also need to figure out your traffic sources.
Traffic sources include things such as social media, search engines, Q&A sites, forums, blogs, press releases, info products, and anywhere else that can drive traffic to your opt-in landing page.
The more eyes you can get on your landing pages, the better.
Step 4: Plan It Out
After brainstorming your sales funnel, you'll want to layout your funnel in a visual way, so you to see the big picture. You can use tools like mind maps, spreadsheets, or diagrams. A good sales funnel is well-planned and detailed. But the great thing is you can also be flexible.
Once you put your funnel into action, be sure to track your conversions to figure out the strongest and weakest spots in your sales funnel. Troubleshoot it and find ways to strengthen the weak parts while replicating the strongest ones in order to improve your sales funnel.
WHAT DOES A FUNNEL PLAN LOOK LIKE?
It's easiest to map out your funnel in a way you can see each part and how they work together.
Here's one example of a solid sales funnel that you can use as a guide for planning your own.
Once you have this mapped out, you can begin to build this out.
If you just said, "what the F, Torie. You lost me."
No worries. This is the part where a lot of business owners close their eyes and walk away. LIKE IT NEVER HAPPENED.
But not you. You made it this far, and I know you see the importance of a funnel for your business. I have something for you, just in case, the tech part isn't your thing.
Smart AF Funnels
We want to take away your frustrations with tech by giving you our proven, powerful Websites and Funnels to grow your business online fast!
"If you're ready to get serious about your sales funnel then you're in the right place. I've built enormous email lists for clients big and small using sales funnels and truly believe in the value of a sales funnel for ANY BUSINESS. That is why I am here to break down the steps and give you the tools you need to make it easy and effective. Let's get smart!"
Torie Mathis
Creator of Smart Funnels and Your Funnel Mentor
What Makes Our smart Funnels Special?
Not all Funnels are created equal, and ours can be best described as full marketing campaigns.
PAGES
All the pages you need come ready to go with each funnel and are simple to customize to your brand and style.
EMAILS
Each funnel comes with pre-written emails in an automated sequence to help convert more people into buyers and leads.
AUTOMATION
Using the power of Kartra, we send the right message to the right person at the right time for maximum conversions.
MEMBERSHIPS
If you sell online courses or memberships, we have the perfect Funnels for you that streamline the entire process from lead to sale.
I 
help entrepreneurs (like you) use digital marketing to get more clients + make more money. And I make it easy!
You don't need crazy tech skills, buckets of cash, or dedicated staff to market your business. You don't even need a lot of time.
What you need is to be SMART.
DELIVERED TO YOUR INBOX
from your Digital Marketing Coach Torie Mathis!
Let's get SMART!

*Posts may contain affiliate links. If you use these links to purchase, I may earn a commission at no additional cost to you.