Tired of your marketing getting little results?
Get the 5 steps to get more subscribers, engagement, and SALES this week! (And make it EASY!)
10 Essential Business Books To Shortcut Success
I suppose you can say there is no true shortcut to success, but if there was my vote would be for reading.
Instead of having to figure out every tactic, make every mistake yourself or create plans for success you can read what others have already done and learn from their successes and failures. One of my top strategies for success is to work smarter, not harder. And though this was not too popular during my time in the Army, it has been one of my greatest assets in business (and post-military life).
Here are ten brilliant business books you can learn from to shortcut your time to success:
By Charles Duhigg
In The Power of Habit, Pulitzer Prize-winning business reporter Charles Duhigg takes us to the edge of scientific discoveries that explain why habits exist and how they can be changed. Distilling vast amounts of information into engrossing narratives that take us from the boardrooms of Procter & Gamble to the sidelines of the NFL to the front lines of the civil rights movement, Duhigg presents a whole new understanding of human nature and its potential. At its core, The Power of Habit contains an exhilarating argument: The key to exercising regularly, losing weight, being more productive, and achieving success is understanding how habits work. As Duhigg shows, by harnessing this new science, we can transform our businesses, our communities, and our lives.
---
by Kenneth H. Blanchard and Spencer Johnson 
For more than twenty years, millions of managers in Fortune 500 companies and small businesses nationwide have followed The One Minute Manager's techniques, thus increasing their productivity, job satisfaction, and personal prosperity. These very real results were achieved through learning the management techniques that spell profitability for the organization and its employees.
The One Minute Manager is a concise, easily read story that reveals three very practical secrets: One Minute Goals, One Minute Praisings, and One Minute Reprimands.
The book also presents several studies in medicine and the behavioral sciences that clearly explain why these apparently simple methods work so well with so many people. By the book's end, you will know how to apply them to your own situation and enjoy the benefits.
That's why The One Minute Manager has continued to appear on business bestseller lists for more than two decades and has become an international sensation.
---
by Stephen R. Covey
The 7 Habits of Highly Effective People is recognized as one of the most influential audiobooks ever recorded. In this seminal work, Stephen R. Covey presents a holistic, integrated, principle-centered approach for solving personal and professional problems. With penetrating insights and pointed anecdotes, Covey reveals a step-by-step pathway for living with fairness, integrity, honesty and human dignity―principles that give us the security to adapt to change, and the wisdom and power to take advantage of the opportunities that change creates. The 7 Habits have become so famous because they work. From Habit 1: Be Proactive and Habit 2: Begin with the End in Mind, millions of people have worked their way through the 7 and found in them a key to transforming their lives. Translated into thirty-four languages The 7 Habits of Highly Effective People has been the key to the success of legions of business leaders and individuals the world over.
---
by Peter Thiel and Blake Masters 
If you want to build a better future, you must believe in secrets.

The great secret of our time is that there are still uncharted frontiers to explore and new inventions to create. In Zero to One, legendary entrepreneur and investor Peter Thiel shows how we can find singular ways to create those new things.
Thiel begins with the contrarian premise that we live in an age of technological stagnation, even if we're too distracted by shiny mobile devices to notice. Information technology has improved rapidly, but there is no reason why progress should be limited to computers or Silicon Valley. Progress can be achieved in any industry or area of business. It comes from the most important skill that every leader must master: learning to think for yourself.
Doing what someone else already knows how to do takes the world from 1 to n, adding more of something familiar. But when you do something new, you go from 0 to 1. The next Bill Gates will not build an operating system. The next Larry Page or Sergey Brin won't make a search engine. Tomorrow's champions will not win by competing ruthlessly in today's marketplace. They will escape competition altogether, because their businesses will be unique.
Zero to One presents at once an optimistic view of the future of progress in America and a new way of thinking about innovation: it starts by learning to ask the questions that lead you to find value in unexpected places.
---
by Napoleon Hill
Think and Grow Rich has been used by millions of business leaders around the world to create a concrete plan for success that, when followed, never fails. About the author: As a young special investigator for a national business magazine, Napoleon Hill was sent to interview Andrew Carnegie.
During that interview, Carnegie slyly dropped a hint of a certain master power he used; a magic law of the human mind a little known psychological principle that was amazing in its power. Carnegie suggested to Hill that on that principle he could build the philosophy of all personal success whether it is measured in terms of Money, Power, Position, Prestige, Influence, or Accumulation of Wealth.
---
by Thomas C. Corley
The "Rich Habits" are ten principles created through years of researching the daily success habits of his wealthiest clients. These ten simple principles miraculously transform every individual who comes into contact with them. By applying these principles, you are literally walking in the footsteps of the wealthy.
In Rich Habits, Tom Corley provides a step by step financial success program that is concise, easy to understand and even easier to apply, regardless of your age, education or income level. In these tough economic times, individuals are struggling financially and desperately looking for help in achieving financial success. Every person seeks prosperity for themselves and their families, and with Rich Habits the secret to financial success possessed by only the wealthiest individuals, will be revealed. Join the Rich Habits financial success revolution.
---
by Dale Carnegie
For more than 60 years the rock-solid, time-tested advice in this book has carried thousands of now-famous people up the ladder of success in their business and in their personal lives.
Now this previously revised and updated bestseller is available in trade paperback for the first time to help you achieve your maximum potential throughout the next century!
---
by George S. Clason
The ancient Babylonians were the first people to discover the universal laws of prosperity. In his classic bestseller, "The Richest Man in Babylon," George S. Clason reveals their secrets for creating, growing, and preserving wealth.
Through these entertaining tales of merchants, tradesmen, and herdsmen, you'll learn how to keep more out what you earn; get out of debt; put your money to work; attract good luck; choose wise investments, and safeguard a lasting fortune.
This is a beautifully-designed edition of the complete, classic work.
---
by Spencer Johnson
With Who Moved My Cheese? Dr. Spencer Johnson realizes the need for finding the language and tools to deal with change–an issue that makes all of us nervous and uncomfortable.
Most people are fearful of change because they don't believe they have any control over how or when it happens to them. Since change happens either to the individual or by the individual, Spencer Johnson shows us that what matters most is the attitude we have about change.
When the Y2K panic gripped the corporate realm before the new millennium, most work environments finally recognized the urgent need to get their computers and other business systems up to speed and the ability to deal with unprecedented change. And businesses realized that this was not enough: they needed to help people get ready, too.
Spencer Johnson has created his new book to do just that. The coauthor of the multimillion bestseller The One Minute Manager has written a deceptively simple story with a dramatically important message that can radically alter the way we cope with change. Who Moved My Cheese? allows for common themes to become topics for discussion and individual interpretation.
Who Moved My Cheese? takes the fear and anxiety out of managing the future and shows people a simple way to successfully deal with the changing times, providing them with a method for moving ahead with their work and lives safely and effectively.
---
by Timothy Ferriss
This version has more than one hundred pages of new and cutting-edge content.
Forget the old concept of retirement and the rest of the normal deferred-life plan–there is no need to wait around and every reason not to, especially in these unpredictable economic times. Whether your dream is to escape the rat race, experience high-end world travel, earn a monthly five-figure income with zero management, or just live more and working less, The 4-Hour Workweek is your blueprint.
This step-by-step guide to a luxury lifestyle teaches:
•How Tim went from $40k per year and 80+ hours per week to $40k per month and 4 hours per week
•How to outsource your life to overseas VAs for $5 per hour and do whatever you want
•How blue-chip escape artists travel around the world without quitting their jobs
•How to eliminate 50% of your work in the next 48 hours using the principles of a forgotten Italian economist
•How to trade a long-haul career for short work bursts and frequent "mini-retirements" Yes please!
The new expanded edition of Tim Ferriss' The 4-Hour Workweek includes:
• 50+ practical tips and case studies from readers (including real families) who have doubled their income, overcome common sticking points and reinvented themselves using the original book as their starting point
•Real-world templates that you can copy for eliminating e-mail, negotiating with bosses and clients, or getting yourself a private chef for less than $8 a meal
•How Lifestyle Design principles can be suited to any unpredictable economic times
•The latest tools and tricks, as well as high-tech shortcuts, for living like a diplomat or millionaire without being either
TAKE ACTION
If you're striving for success in your business and you haven't read these books pick one to read. If you feel you don't have time to read I have two solutions for you. First, try Audible for your reading time. You can get 2 free books to try out for free. This is how I do 80% of my reading (and I read about 50-60 books a year). With Audible you don't need any software, you can just listen to your books on your smartphone or computer. You can also check with your library and see if they offer a free service for audio books. My library offers Hoopla, and I get a handful of audiobooks each month that I can virtually "check out" and listen to. The selection is not as robust as Audible it's a good addition (or alternative) to get more each month.
The second thing is for you to better manage your time. If you are committed to being successful in your business, and if life, continually learning and broadening your mind will help you by leaps and bounds. And learning through the experiences of others, through the words they are sharing with us in their books will give you new ideas, new strategies, and motivation for successes. If you need so help with your time management I have a Time Audit that you can download and work through for free. IIt's an easy to do exercise that can really open your eyes to how you are using your time and give you huge breakthroughs on how to better use it.
Building a successful business and life will take time, but should not take all of your time. Getting a good hold on your time and your productivity will make your journey to success a quicker one, and probably more fun.
So check out some of the books mentioned above to shortcut to success, take a look at Audible and check in with yourself and your use of time.
Here's to living the life you LOVE!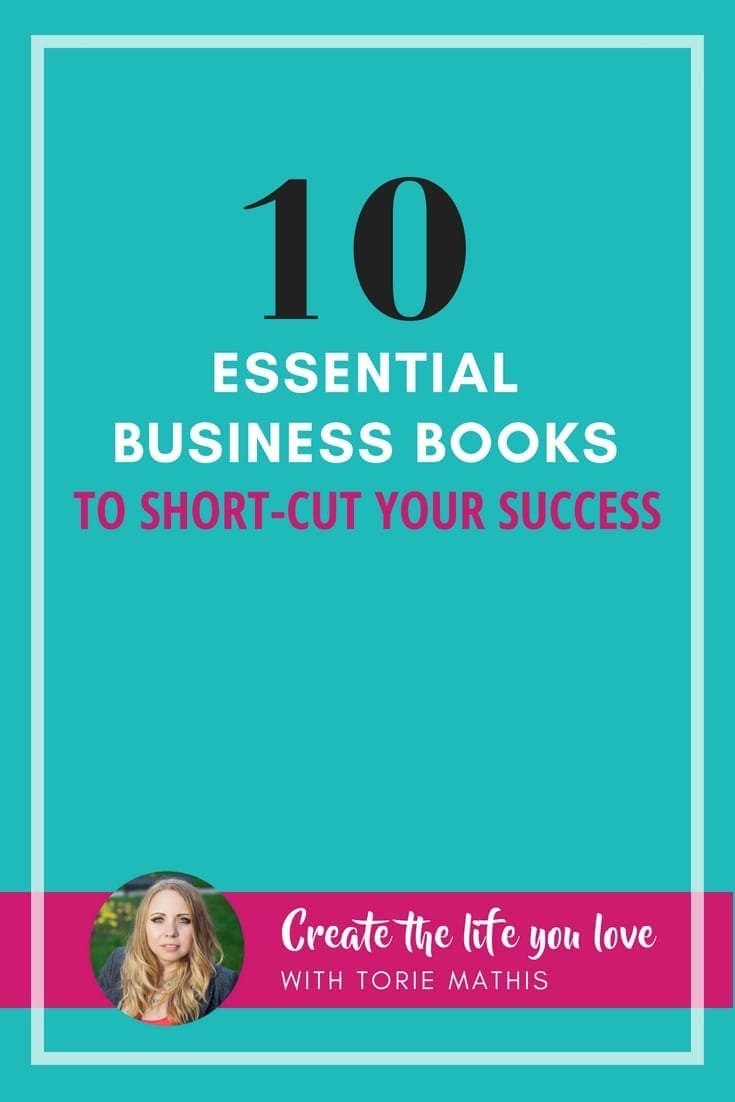 About Digital Marketing Expert Torie Mathis
Torie Mathis helps entrepreneurs, like you, use digital marketing to grow your business without wasting time, money, or your sanity.  She is a best-selling author, Army veteran, speaker + trainer, and your digital marketing coach. You don't need crazy tech skills, buckets of cash, or dedicated staff to market your business. In fact, you don't even need a lot of time. What you need is to be SMART.
Torie hosts SMART AF, a show for non-techy entrepreneurs looking to grow their business, with her husband Sean and is the creator of SMART AF Magazine. Learn from Torie at the Smart Arsenal and on her channel.
What do you think? Let's talk! Leave a comment.
I help entrepreneurs (like you) use digital marketing to get more clients + to make more money. And I make it easy! 
You don't need crazy tech skills, buckets of cash, or dedicated staff to market your business. You don't even need a lot of time.
What you need is to be SMART.
DELIVERED TO YOUR INBOX
from your Digital Marketing Coach Torie Mathis!
Let's get SMART!