Tired of your marketing getting little results?
Get the 5 steps to get more subscribers, engagement, and SALES this week! (And make it EASY!)
3 Ways to Streamline Your Business Processes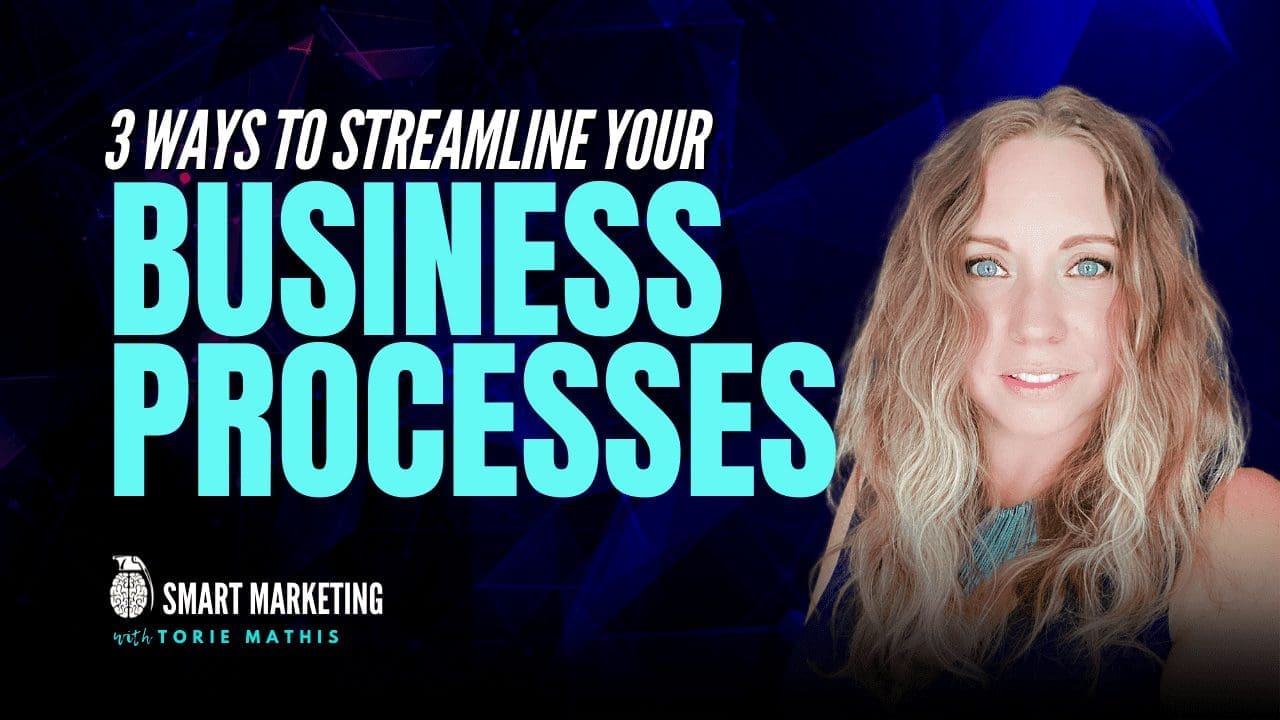 Every single business owner I have ever spoken to is looking for ways to save time; after all, time is the one finite resource you have, and there is no getting it back or getting more. So it comes down to figuring out how to use your time the best you can. A great place to start is your business processes; they can be a motherlode of time-saving.
When you look at your business processes and try to find ways to make them more efficient, don't forget that one great option is to save the most time by no longer doing the task at all. But that doesn't mean the task doesn't get done. You can: Delegate, outsource, and automate tasks freeing up ALL of your time. Let's look more into all three.
Delegating Tasks 
Delegating involves finding someone else that already works with you to take over the task. It requires taking one of your regular tasks and mapping out each step so that anyone can do it just as well as you. The advantage to delegating is that someone in your organization already knows you and understands you and your business goals.
A great example of something you easily can delegate is social media management. Social media can require you to be there every day, posting, monitoring, commenting, and interacting across your channels. You can easily get someone else in your business to take over these activities rather than doing it all yourself.
Other tasks that are great to delegate include administrative tasks, accounting, data entry, IT, customer service, marketing tasks, and all that content creation.
Outsourcing 
There are many reasons you may want to delegate to someone outside your organization, also known as outsourcing. You may not have the staff available, or you may not have a team that can handle all the tasks you need to delegate. Instead, you can outsource tasks to a virtual assistant or another service provider outside your company.
In addition to the same tasks as mentioned above, you can also outsource things that require specific skills like copywriting, graphic design, programming, video editing, and other skills you don't have the time to learn or the resources to handle yourself. Or maybe it's just a task you really just don't enjoy – these are also great tasks to outsource. Not only can you work on things that are more of your zone of genius, but you can also free up time for more profitable tasks that only you can do.
For example, you may need to add new pages to your website. It would take time to learn website design, so a better use of your resources would be to pay someone to handle it for you. 
When outsourcing, take some time to compare and research providers before you decide on one. I found the most efficient and effective way to outsource is to hire a single VA who can become familiar with you and your business and handle a large portion of work. As they become more efficient, you can add new tasks to their list of work, further taking more off your plate.
Automate with Technology
Software tools and apps can take over many routine tasks that don't involve being creative or needing to solve problems. With recent improvements in technology, there are more and more things that software can do for you. And the ease and price points are so much better than they were just a few years ago, so if you scuffed at technology before, it is well worth a fresh visit. I promise.
Things you can automate with tech:
– Email replies
– Accounting functions like bill paying
– Some social media activity
– Customer management
– Monitoring and analytics
– Signups and registrations
– Organizational tasks.
– File back-up
Explore tech automation options and determine which tasks can be automated. And definitely take advantage of the free trials and test out the software before you commit. One caveat, try not to automate areas of your business that requires a human touch.
All of these options do require some time and a little effort on your part to figure out and to set up, but the small amount of time is well worth the hours upon hours you will get back week after week. To delegate or outsource, you will need to map out business processes so someone else can learn them. And automating with tech involves sometimes choosing the right option for your business. But it will be all worth it once you have everything all set up and running smoothly.
Want to learn more about saving time by streamlining your business processes? Sign up for my weekly email and get marketing tips, software suggestions, and lots of cool freebies to help you run your business smarter. 
About Digital Marketing Expert Torie Mathis
Torie Mathis helps entrepreneurs, like you, use digital marketing to grow your business without wasting time, money, or your sanity.  She is a best-selling author, Army veteran, speaker + trainer, and your digital marketing coach. You don't need crazy tech skills, buckets of cash, or dedicated staff to market your business. In fact, you don't even need a lot of time. What you need is to be SMART.
Torie hosts SMART AF, a show for non-techy entrepreneurs looking to grow their business, with her husband Sean and is the creator of SMART AF Magazine. Learn from Torie at the Smart Arsenal and on her channel.
I help entrepreneurs (like you) use digital marketing to get more clients + to make more money. And I make it easy! 
You don't need crazy tech skills, buckets of cash, or dedicated staff to market your business. You don't even need a lot of time.
What you need is to be SMART.
DELIVERED TO YOUR INBOX
from your Digital Marketing Coach Torie Mathis!
Let's get SMART!