Email Marketing Tutorial for Beginners Course
Get the Step-by-Step Process To Put Your Lead Generation on Autopilot With This Email Marketing Course for Beginners
Are you struggling to reach and connect with your audience in a personalized way? It's time to build a list of raving fans and loyal customers that will continue to support and buy from you. This email marketing guide for beginners will do just that.
Imagine having a direct line of communication to each of your followers, allowing you to:
Build Relationships
Use targeted personalization to nurture relationships that convert leads into paying customers.
Help More People
Help your customers get the best results from their purchases by delivering valuable content.
Showcase Your Expertise
Share information that demonstrates the value you offer and promote yourself as an expert.
Have Loyal Customers
Grow a loyal base of followers who buy from you again and again by building credibility and showing that you understand your customer's needs.
Build Trust
Respect the customer, make it clear who your messages are from, and recommend relevant products and services to people who trust you.
Continual Growth On Autopilot
Email marketing is a simple to set up asset that continues to collect quality leads, 24/7/365.
With this email marketing basics course, you can expand your email list and customer base and increase click-through rates in no time!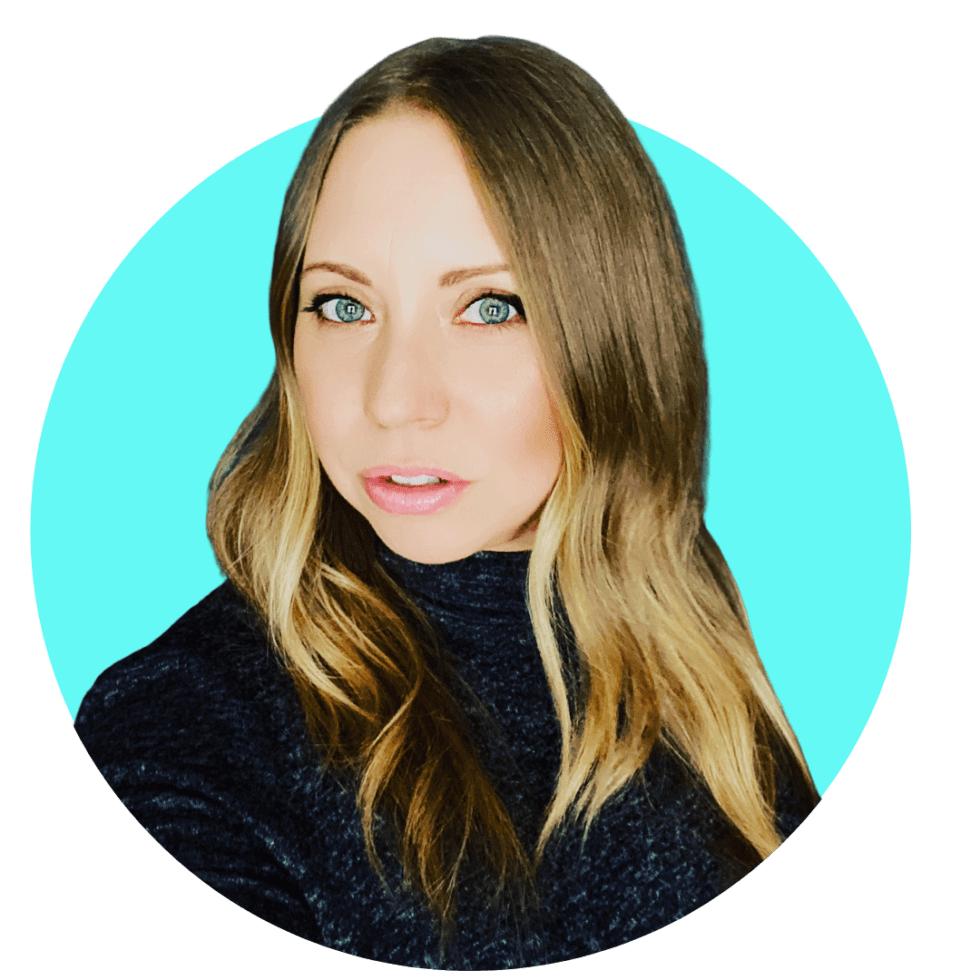 "If you're ready to get serious about list building then you're in the right place. I've built enormous email lists for clients big and small and truly believe in the value of an email list for ANY BUSINESS. That is why I am here to break down the steps and give you the tools you need to make it easy and effective. Let's get smart!"
Torie Mathis
Your List Building Mentor
Get the step-by-step process for identifying exactly who you want to attract, put in place all the pieces needed to get those people subscribed (on autopilot), and leverage your email list to supercharge your success with email marketing basics and beyond.
SAVE HOURS TRYING TO FIGURE IT OUT YOURSELF
Instead of taking tons of courses that will waste your time and leave you confused, let me simplify the process and help you grow your business with tried-and-true email marketing tips for beginners.
PROVEN STRATEGIES TO GET LEADS ON AUTOPILOT
My email marketing tutorial for beginners will teach you how to leverage email marketing tools to see the results you've been waiting for.
Step-by-step Video training
With my email marketing guide, you will never feel left in the dark. You will receive step-by-step video training to teach you how to become a successful email marketer.
ASK QUESTIONS & GET THE SUPPORT YOU NEED
I am here to help you throughout the entire process and answer any questions you may have about email marketing basics.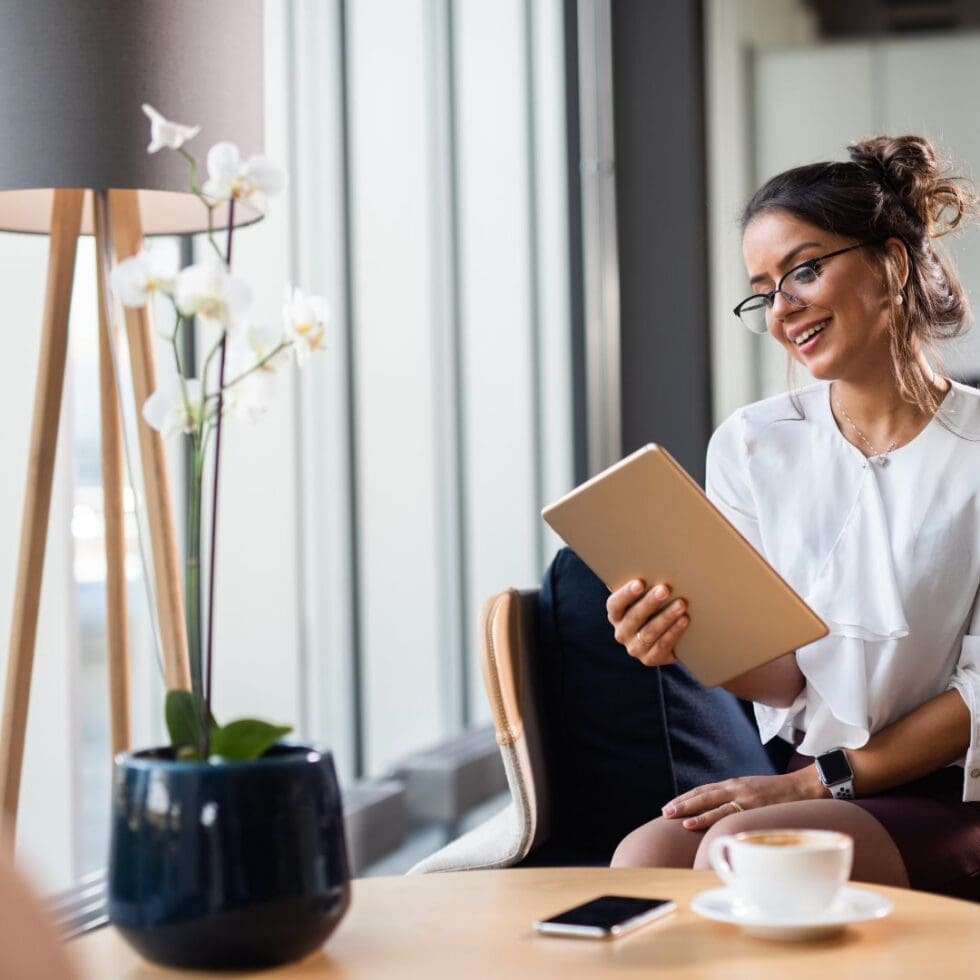 in this beginners guide to email marketing, video modules will show you the exact steps to build your list
During this email marketing for beginners course, you can set your own timeline and take it at your own pace.
Make it a 30, 60, or 90-day email marketing guide program.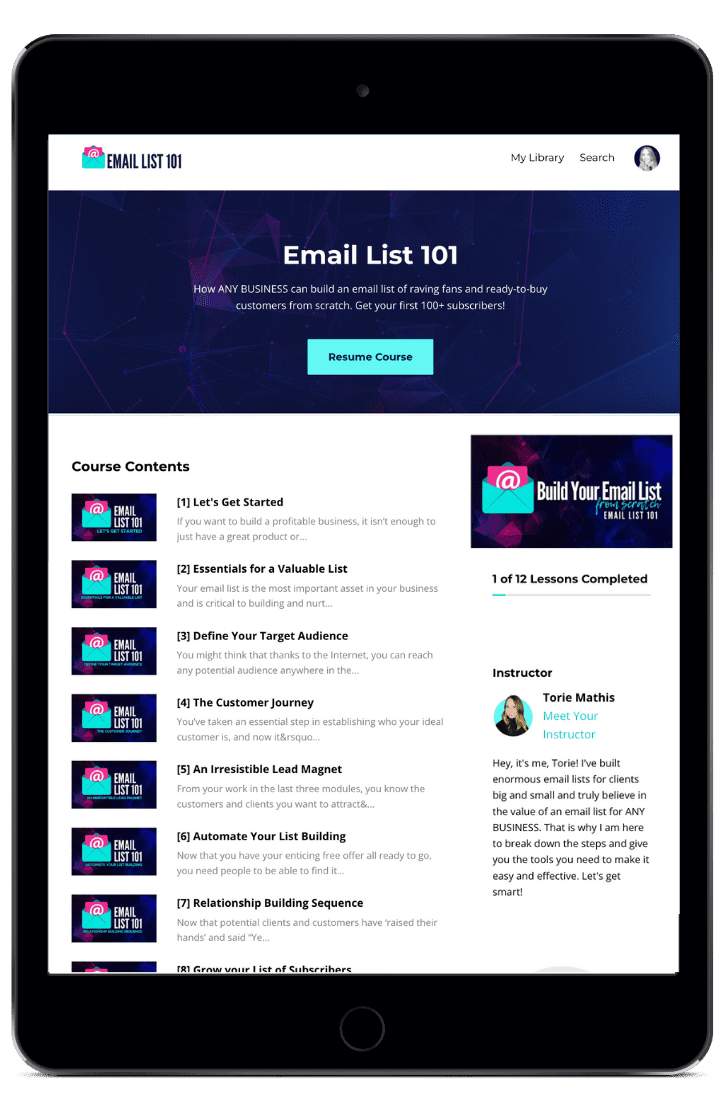 Set Your List Building Goals
Begin this email marketing basics course by setting realistic goals for list-building, so you can make steady progress towards growing a targeted list that gives your business a boost.
Define Your Ideal Customer
Describe the ideal customer and target the appropriate audience, so you can create the most relevant and valuable content to engage subscribers.
Plot Your Customer Journey
Your email list is the key to guiding customers from prospects to loyal, repeat buyers. But only if you know the steps you want them to take on that journey.
Create an Enticing Lead Magnet
In this email marketing for beginners course, you will learn how to motivate your ideal customer to sign up for your list by offering a valuable gift that solves one specific challenge… and showcases your expertise at the same time.
Learn the Step-by-Step Email Marketing Strategy for Beginners in This Email Marketing Basics Course
PLUS get the downloadable workbook to guide you through the process, which is full of email marketing tips for beginners, along with email campaign strategies for your small business that you can implement right away.
SET UP YOUR LIST BUILDING SYSTEM
Learn email marketing basics, like how to set up the critical systems you need for building your list. This allows your list building to run on autopilot so you can focus on other areas of your business
Write and Schedule Your Email Sequence 
Write your first follow-up email sequence to draw attention and nurture your subscriber relationships, so you can build a community of people who will be interested in receiving your offers.
Start Growing Your List
In this email marketing guide for beginners, you will learn how to drive traffic using a variety of methods (such as sign-up forms, pop-ups, and giveaways) to attract people to your email opt-in. This will help you keep building your list consistently every month.
Measure Your email List Building Progress
Learn how to monitor your list growth with email marketing guidelines, so you can measure how effective your strategies are and see where you need to adjust to attract more subscribers.
STOP STRUGGLING TO FIGURE OUT HOW TO GROW YOUR EMAIL LIST
and get started with this email marketing beginners guide
YOU CAN BUILD A LIST FROM SCRATCH!
After purchasing my email marketing tutorial for beginners, you'll learn exactly what you need to build a targeted email list from scratch. You'll put automated systems in place to attract potential clients on a consistent basis and expand your client list. 
You'll discover the best ways to find your ideal subscribers, as well as how to entice them to sign up. And by the time you've finished the email marketing basics course, you'll have a detailed plan in place to grow your email list and achieve the results you want.
What Makes THIS COURSE So Special?
Not all digital marketing courses are created equal.
SMART
Sure, you can learn email marketing basics from a book, but learning from a video is a richer, more engaging experience.
experience
I've been where you are and developed this email marketing tutorial for beginners to save you time and money. I teach from my experience in getting results for my business and from my client successes.
Done-for-you
Along with the why, I give you the HOW to actually get results with examples, templates, and resources.
support
Have questions? Get stuck? Need some direction? I've got your back with the support you need.
Email Marketing is just one part of your entire Smart Marketing Strategy.
Learn exactly how they fit into a sustainable system that will get you results for years to come.
What is the Smart Marketing System
I created the SMART Marketing system, so small businesses, solopreneurs, and service professionals - like you - can have an easy-to-follow blueprint for reaching their business marketing goals. Learn how to build a personal brand without wasting time and money.
What is SMART Marketing?
SMART stands for the 5 marketing pillars:
Sales Process
Message
Authority
Relationship Building
Traffic
Together, they create a scalable system to consistently grow your business and help you rise above your competition.
You'll get your own personalized Smart Marketing Action plan so know exactly what to focus on to get the best results for your business right now. It's important to work smarter, not harder!
You could have a complete email list building system set up for your business in 30 days or less with this email marketing basics course.
With step-by-step instructions, examples, resources, and templates included in this course, you'll hit the ground running on your list building journey.
Trying to figure out all these tech tools and marketing strategies, and then making them all actually work, is a pain, I know.
I've spent years figuring it all out myself, spending thousands on courses, conferences, training, and books. I've wasted time, money, and resources. BUT you don't have to.
That is why I created this email marketing tutorial for beginners. I wanted to make it easy for you to have everything ready to go in the most efficient way possible, as well as providing you with the step-by-step, start-to-finish instructions you need. So you can save time and get more of the results you want.
Stop trying to figure it out yourself and let me help you.
Let me be your email marketing guide.
All of my email marketing for beginner courses are fully guaranteed for your peace of mind and are regularly updated.
FREE lifetime updates

Step-by-step training

Created for entrepreneurs by entrepreneurs

A SMART choice for your business
This Course Is Part Of The
exclusive SMART marketing system

to connect all your digital marketing to grow your business with less stress.

Taking one or two digital marketing courses won't get you where you want to go. You need a system and a strategy that all works together, not just another unconnected tactic. This includes everything from paid ads and Facebook ads to, of course sales funnel health (just to name a few). That's why we put all of our courses under one roof, so you get EXACTLY what you need to be successful.
Why Join The Smart Arsenal
The Smart Arsenal includes the Email Marketing 101 Course PLUS the SMART Marketing System that will show you how your sales funnel is just one part of your Smart Marketing System – that connects all parts of your marketing with one goal – your sustained business success.
We don't want you to just try another tactic that won't give you results long term. We want you to have a system that works!
Digital Marketing and Personal Branding Online Course work Also Included In Your Smart Arsenal Membership
"Torie Mathis is my personal FB advertising ninja. A pleasure to work with (breath of fresh air after a long list) and passionate as they come. 
My company has thousands upon thousands of subscribers directly through my successful FB advertising…. and its 100% thanks to her, her expertise and her commitment. Did I mention what a pleasure she is to deal with?! "
"Torie Mathis has a work ethic that is rarely seen and design skills that would impress anyone. She's an expert at seeing the big picture and knows how to design advertisements and marketing plans that get key messages across. More importantly, she knows how to reach and connect with varied audiences. She's not just a designer or graphic artist but a true entrepreneur who has a track record of success. More companies would accomplish their business objectives if they worked with people like Torie Mathis."
"Torie understands what small businesses must do to move forward."
"If you are looking to remove the stress and frustration in growing your business with the social media madness… you would be well served to reach out to Torie, she gets this playing field and wins."
Torie is a great asset to our company due to her creativity, technological knowledge, and support with social media. 
Torie is always able to take my ideas and make them into marketing art for my business.  She is an absolute pro and her service is of the highest quality and timely beyond my expectations.
Frequently Asked Questions
Here are some of the most common questions I get asked. If you have another question, tap here to get in touch.
HOW DO I ACCESS COURSE MATERIALS?
You will get a login to your very own course library that will house all of the courses you have purchased. From there you can access your training 24/7/365 from any device. Easy peasy!
WHAT IF I NEED MORE HELP?
You can always reach out to me via the helpdesk for technical or small issues and I am happy to help! If you would like more assistance with any of the course work I have group programs and coaching available for those that need it!
DO YOU UPDATE THE COURSE MATERIALS?
Absolutely, when new information or better tactics are available I go in and sprinkle all the new success tools into the course! No extra charge, you get all updates forever.
AM I TIED TO A CONTRACT?
There is no ongoing commitment, contracts, or other ties. You will be charged monthly until you cancel.
So what's the big deal with email marketing?
I'm glad you asked. Maybe you're doubting the power of email marketing tools in today's social media-driven world…or maybe you've tried email marketing and had too many unsubscribes or little response. I hear you, and I've been there. I tried and failed big time. 
And I can tell you from experience that the "HOW YOU BUILT IT" is the most important and sometimes overlooked part. Get this email marketing for beginners course to start achieving your goals today. Watch below: