Tired of your marketing getting little results?
Get the 5 steps to get more subscribers, engagement, and SALES this week! (And make it EASY!)
3 Strategies for Behavior-Based Goals
If you want to create a life you love you better start ticking off some of those goals you've created for yourself.
Setting goals isn't complicated, but like everything else, there is a right and wrong way to go about it. There are different strategies to use for performance goals vs. behavior goals.
Making goals to change your behavior — whether it's to decrease procrastination or be nicer when you're in stressful situations — can be a lot trickier than creating goals to change performance.
Here are a few tips to get you started.
Focus on Future Performance
It's cause and effect — today's behavior affects tomorrow's performance. If you're having trouble meeting a performance-based goal you've set for yourself, consider that you might need to change a behavior instead.
For example, many people set goals to increase productivity. But regardless of how fast you type, if you spend all morning surfing the web you'll never meet your goal.
When it comes to behavior changing goals, your focus should be on future performance. Go out of your way executing your behavior-based goals, stay consistent, and really work hard on changing the ways you handle stress or deal with interpersonal relationships. As you change your behaviors, the results will come, just keep at it.
Give Yourself Time
In some ways, changing your behavior is a lot harder than just increasing your productivity. How we feel, think, and react is second nature to us in a way that answering a certain amount of emails before lunch isn't. So don't be too hard on yourself if you aren't seeing the behavioral changes you want overnight.
Give yourself a realistic amount of time to make changes. You'll find it's difficult to change a behavior all at once. Cold turkey is the not the approach you want to try here. The most important thing is that you improve a little bit every day. Don't give up on your goals, but don't get upset with yourself if it's harder to stick to behavior-based goals than it is to performance-based goals.
Measure Your Progress
Behavior-based goals are more difficult to measure than performance-based goals for a couple of reasons. It's not always easy to assign an actual value to things like patience or procrastination. It can be hard to track the ways you manage your time or how you communicate with others. Sometimes, behavior-based goals are really subjective. But keeping track of your progress is important if you want to improve. You can't improve what you don't measure.
You may need to get creative in order to measure your progress.
Write down your thoughts and feelings on how you're doing to change the behavior. Rather than making charts and graphs, consider journaling to keep track of your positive and negative behaviors. If you feel you need some type of data (like I would!) you can try rating yourself for the day on a scale of 1-10 and use that same measurement each day to track your behavior.
Remember these strategies for your next behavior-based goal to keep you going to creating a life you love. 
Here's to creating the business and life you LOVE!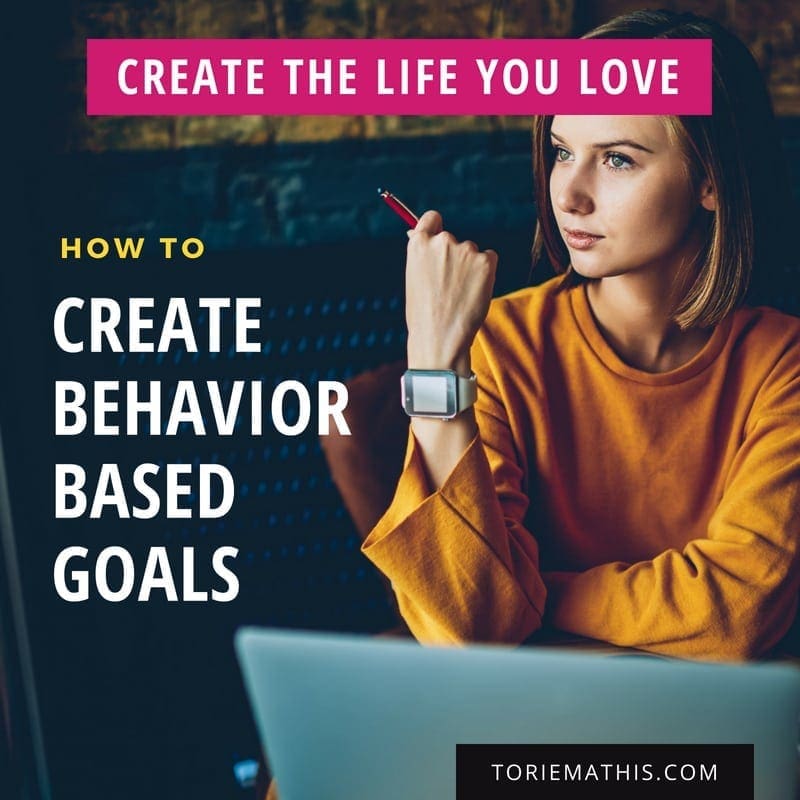 About Digital Marketing Expert Torie Mathis
Torie Mathis helps entrepreneurs, like you, use digital marketing to grow your business without wasting time, money, or your sanity.  She is a best-selling author, Army veteran, speaker + trainer, and your digital marketing coach. You don't need crazy tech skills, buckets of cash, or dedicated staff to market your business. In fact, you don't even need a lot of time. What you need is to be SMART.
Torie hosts SMART AF, a show for non-techy entrepreneurs looking to grow their business, with her husband Sean and is the creator of SMART AF Magazine. Learn from Torie at the Smart Arsenal and on her channel.
What do you think? Let's talk! Leave a comment.
I help entrepreneurs (like you) use digital marketing to get more clients + to make more money. And I make it easy! 
You don't need crazy tech skills, buckets of cash, or dedicated staff to market your business. You don't even need a lot of time.
What you need is to be SMART.
DELIVERED TO YOUR INBOX
from your Digital Marketing Coach Torie Mathis!
Let's get SMART!