Tired of your marketing getting little results?
Get the 5 steps to get more subscribers, engagement, and SALES this week! (And make it EASY!)
Hosting a Successful Business Launch Party: Pros and Cons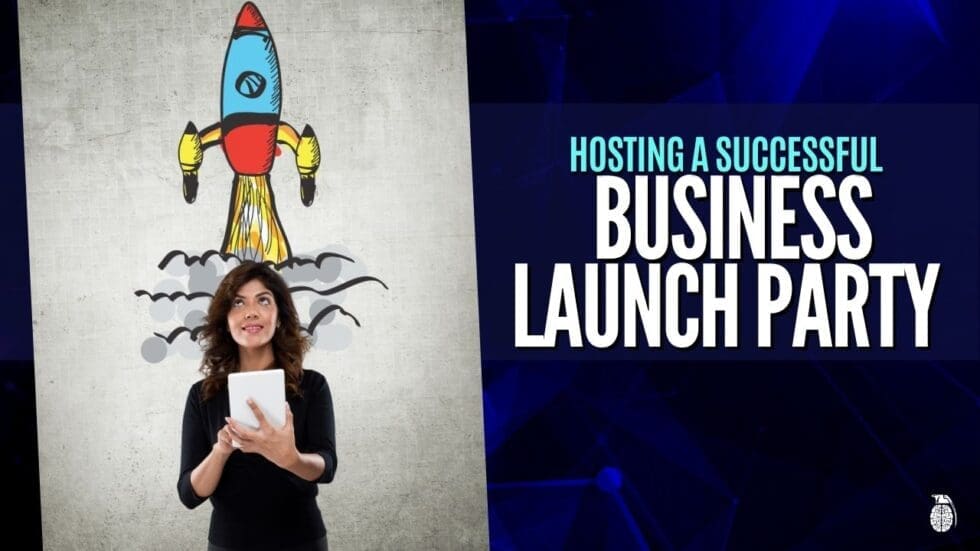 Are you ready to celebrate the launch of your business?
Throwing a business launch party is an excellent way to get people excited about what you have created and build relationships with potential customers. But before jumping into planning, it's important to understand both the pros and cons associated with hosting a business launch party.
From selecting the right venue for your event to inviting guests, there are many things that should be considered when organizing this special celebration. In this article we will explore all aspects of throwing a successful business launch party so that you can make sure yours is as memorable as possible!
Table of Contents:
Planning a Business Launch Party: The Pros and Cons
Hosting a business launch party can be an effective way to increase visibility, create networking opportunities, and promote a positive brand image. However, there are some important considerations that entrepreneurs should take into account before planning such an event.
Benefits of Hosting a Launch Party
Increased Visibility: A launch party is a perfect opportunity for entrepreneurs to showcase their new product or service in front of potential customers and industry influencers. This can help spread awareness about the business and build relationships with key stakeholders in the community.
Networking Opportunities
By hosting a launch party, entrepreneurs have the chance to meet people from different backgrounds who may be interested in their products or services. This provides them with valuable connections that could lead to future collaborations or partnerships down the line.
Positive Brand Image
Inviting people to celebrate your business's success is also an excellent way to demonstrate confidence in what you offer and show appreciation for those who have supported you along your journey. It can also help establish trust between you and your target audience by showing that you value their time and opinions.
Challenges of Hosting a Launch Party
Cost Considerations: When planning any type of event, it's important to consider how much money will need to be spent on food, drinks, decorations, venue rental fees etc., as these costs can quickly add up if not managed properly beforehand.
Despite all your best efforts at promoting the event through various channels (social media, word-of-mouth, email campaigns), there is always a risk that attendance numbers won't reach expectations due to unforeseen circumstances beyond anyone's control; for example, bad weather on the day itself.
Hosting a launch party can be a great way to get your business noticed, but there are many factors to consider when planning one. The right venue selection is key for making the event successful and enjoyable for all attendees.
The Gist: Hosting a launch party can be beneficial for entrepreneurs by increasing visibility, creating networking opportunities, and establishing trust with their target audience. However, costs should be managed carefully, and attendance numbers cannot always be guaranteed.
Selecting the Right Venue for Your Launch Party
When planning a business launch party, selecting the right venue is essential for ensuring its success. There are several factors to consider when choosing a venue that will best suit your needs and ensure an enjoyable experience for all of your guests.
Biz Launch Party Location
Location and accessibility should be taken into account when deciding on a venue. Consider how easy it is to get to the location from various parts of town or if there is ample parking available nearby. Additionally, think about whether you want an indoor or outdoor space and what amenities are necessary, such as restrooms, tables, chairs, etc.
Business Launch Party Budget
Budget and availability are also important considerations when selecting a venue for your launch party. Make sure you know exactly how much money you have available to spend on renting the space before making any commitments so that you don't end up overspending or having to cut corners in other areas of the event planning process due to a lack of funds. It's also important to make sure that the date and time slot you select is actually available at the chosen location before committing yourself too far in advance.
There are many types of venues that can be considered for hosting a business launch party, including restaurants or bars, hotels or conference centers, outdoor spaces such as parks or beaches, and private residences like homes with large backyards. Art galleries, museums, theaters, and studios may also be suitable options depending on your budget and preferences.
When considering these options keep in mind their capacity limits as well as their amenities (such as audio-visual equipment) which may affect pricing significantly but could add value overall by creating more engaging experiences for attendees.
Choosing the right venue for your launch party is key to creating a successful and memorable event. Now that you know how to select the best option, let's move on to inviting guests to your business launch party.
The Gist: When selecting a venue for your business launch party, consider factors such as location and accessibility, budget and availability, type of space (indoor-outdoor), amenities needed, and capacity limits.
Inviting Guests to Your Business Launch Party
When it comes to inviting guests to your business launch party, crafting an effective invitation list is key. Start by identifying target audiences who will be interested in attending and prioritize VIPs and influencers who can help spread the word about your event. Leveraging social media platforms such as Facebook, Twitter, Instagram, or LinkedIn can also be a great way to reach out to potential attendees.
Creating an engaging invitation design is just as important as selecting the right people for your guest list. Choose a format that best suits the occasion – whether it's digital or physical – and incorporate visual elements like images or graphics into your design for maximum impact.
Writing compelling copy is also essential; use language that conveys excitement and encourages readers to take action.
Setting up for success at your business launch party requires careful planning ahead of time. Decorate the space with colors that evoke certain emotions while incorporating brand elements throughout the venue.
When it comes to refreshments, offer appropriate food & beverage options that fit within budget constraints while stocking up on supplies like plates, cups, napkins etc., ensuring adequate staffing so everything runs smoothly on the day of the event itself.
Finally, maximize the impact of your business launch party by collecting feedback from guests through surveys or interviews and analyzing long-term results from any marketing campaigns you may have run leading up to this point in time. Leverage social media coverage by posting photos and videos taken during the event which will help boost visibility even further.
The Gist: Inviting the right guests, crafting an effective invitation design, setting up for success and collecting feedback are key to throwing a successful business launch party. – Identify target audiences & VIPs – Leverage social media platforms – Incorporate visual elements into invitation design – Decorate with brand colors & appropriate refreshments – Collect feedback & maximize visibility on social media
Business Launch Party FAQs
How do you throw a launch party for a new business?
Throwing a launch party for a new business is an exciting way to introduce it to the public. Start by deciding on the type of event you want and setting a budget. Invite potential customers, partners, and influencers who can help spread the word about your business.
Choose an appropriate venue with enough space for everyone attending. Prepare food and drinks that fit your theme or brand identity. Finally, create promotional materials such as flyers or posters to promote your event leading up to its date. With these steps in place, you'll be ready to host a successful launch party.
What does a launch party consist of?
A launch party is an event designed to celebrate the successful launch of a new product, service, or business. It usually consists of a gathering of friends, family members, and colleagues who are invited to help spread the word about the new venture. The host typically provides food and drinks for guests as well as entertainment such as music or games.
Depending on budget and preferences, decorations can range from simple balloons to more elaborate displays that reflect the theme of the launch. Additionally, it's common for hosts to provide promotional materials like flyers or brochures with information about their product/service in order to generate interest among attendees.
How much does a launch party cost?
The cost of a launch party depends on the size and scope of the event. Factors such as venue, catering, entertainment, decorations, and other services will all contribute to the overall cost.
Generally speaking, a small-scale launch party can range from $500-$2,000 while larger events may exceed $10,000 or more. It is important to consider your budget when planning a launch party so that you don't overspend or end up with an inadequate budget for your desired outcome.
What happens at a product launch party?
A product launch party is an event to celebrate the release of a new product or service. It's typically hosted by the company and attended by customers, partners, press, influencers and other stakeholders. The purpose of the event is to showcase the product or service in a fun and engaging way. Activities at such events may include presentations from key members of staff, interactive demonstrations, networking opportunities with industry professionals and special offers for attendees. Product launch parties are also great ways to generate buzz around your brand while connecting with potential customers.
Conclusion
It is important to consider the pros and cons of hosting such an event, as well as selecting the right venue for your launch party and inviting guests who will help you make it successful. With careful planning, your business launch party can be a memorable occasion that helps set the stage for future success.
Are you an entrepreneur looking to launch your business? Join the Smart Arsenal and get the support you need to get your business started!
About Digital Marketing Expert Torie Mathis
Torie Mathis helps entrepreneurs, like you, use digital marketing to grow your business without wasting time, money, or your sanity.  She is a best-selling author, Army veteran, speaker + trainer, and your digital marketing coach. You don't need crazy tech skills, buckets of cash, or dedicated staff to market your business. In fact, you don't even need a lot of time. What you need is to be SMART.
Torie hosts SMART AF, a show for non-techy entrepreneurs looking to grow their business, with her husband Sean and is the creator of SMART AF Magazine. Learn from Torie at the Smart Arsenal and on her channel.
What do you think? Let's talk! Leave a comment.
Is Your Marketing Taking You Away From The Things You Love?
What if you could get amazing results from your marketing without spending more time, more money, AND it was easy and predictable? Sean and I have suffered through it too, and we found the answer...
I 
help entrepreneurs (like you) use digital marketing to get more clients + make more money. And I make it easy!
You don't need crazy tech skills, buckets of cash, or dedicated staff to market your business. You don't even need a lot of time.
What you need is to be SMART.
DELIVERED TO YOUR INBOX
from your Digital Marketing Coach Torie Mathis!
Let's get SMART!

*Posts may contain affiliate links. If you use these links to purchase, I may earn a commission at no additional cost to you.