Tired of your marketing getting little results?
Get the 5 steps to get more subscribers, engagement, and SALES this week! (And make it EASY!)
How to Live Without Regret
You may already have a few regrets, but there are ways to ensure you have far fewer of them from here on out.
There are only a few things more tragic than looking over your life and wishing you had lived a life dramatically different.
It's time to take control of your future and say goodbye to regret.
Here is how to fill your life with fond memories and live a life without regret.
Try these techniques:
List all the things you want to do and see
A big part of avoiding regret is seeing and doing all the things you most want to do and see. Actually getting your list out on paper makes these things more real, and will allow your subconscious to find their opportunities. It's also a good idea to tell people about your list for you never know who can make one of these goals come true.

Focus
Many regrets are the result of failing to steer your life toward something specific. Being decisive can be scary when decisions seem final. But when you never make up your mind, you'll never do anything. You have to decide what's most important to you and get moving toward it.

Avoid wasting time
Along with indecisiveness, we waste hours each day. Between TV, the internet, our smartphone, and rehashing the same stories again and again with friends, we don't make the most of our days. Time is continuously slipping away, so we have to make the most of it.
Establish goals
Goals require focus and decision. Create goals and spend your time working toward them. By establishing and achieving your goals, you can avoid many regrets later in life. You can look back and be proud of what you accomplished. 
Avoid settling
Perhaps you wanted to be a doctor but decided that being a nurse was easier. Or you always wanted to go live in Paris but settled on San Francisco. Settling results in that gnawing feeling that you can never entirely shake. Have faith in yourself and stick to what matters to you.

Be bold
A life lived cautiously and meek is a life that ends in regret. Being bold can be scary, but you'll create challenges for yourself that will allow you to grow and evolve. You will look back at your adventures and see how far you've come.

When in doubt, just go for it
You're more likely to regret what you didn't' do than the things you did do. Making mistakes is better than not knowing what could have happened. Try things and find out for yourself what's possible.

Avoid taking life too seriously
You'll have more fun and do more if you can live your life without taking things too seriously. Life can be enjoyable and adventurous.

Get used to being uncomfortable
Living an exciting life is uncomfortable at times. Your inability to deal with feeling uncomfortable can be leading cause of regret. You'll find the thought of being uncomfortable is worse than the actual experience.   
Look forward
Why start feeling regretful now by looking backward? Look ahead and move toward a future that fulfills you. What do you want your future to look like? Start moving toward that.
Tame your Fear
Fear is a leading cause of a regretful life. Taming your fear is the most critical step to a fulfilling life. Be bold in your life and make some big decisions. Set some audacious goals and pursue them vigorously. Learn to be uncomfortable and to challenge yourself.
There will be no room for regret.
Here's to creating the business and life you LOVE!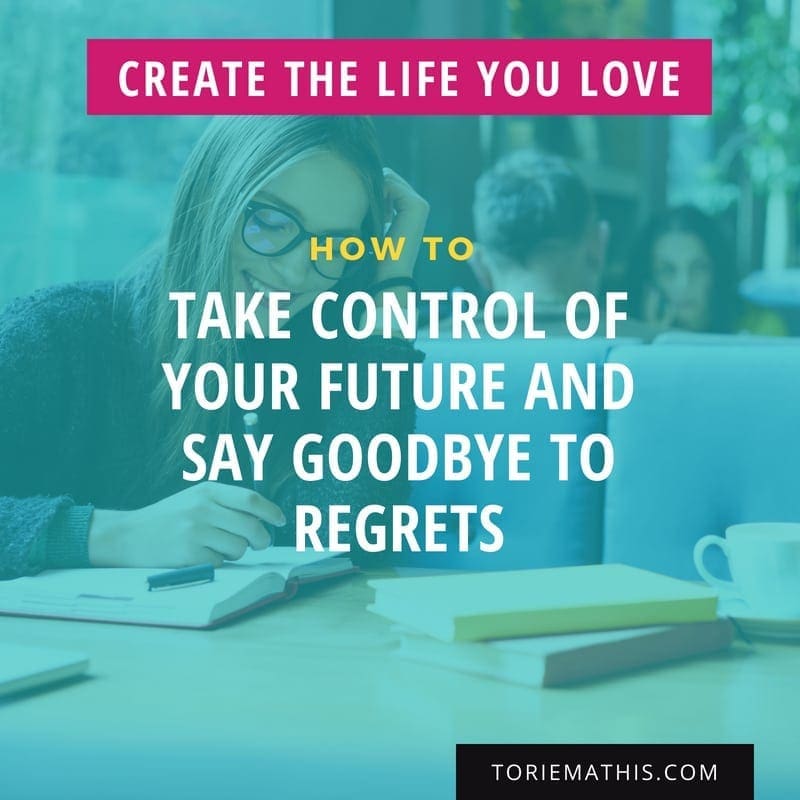 About Digital Marketing Expert Torie Mathis
Torie Mathis helps entrepreneurs, like you, use digital marketing to grow your business without wasting time, money, or your sanity.  She is a best-selling author, Army veteran, speaker + trainer, and your digital marketing coach. You don't need crazy tech skills, buckets of cash, or dedicated staff to market your business. In fact, you don't even need a lot of time. What you need is to be SMART.
Torie hosts SMART AF, a show for non-techy entrepreneurs looking to grow their business, with her husband Sean and is the creator of SMART AF Magazine. Learn from Torie at the Smart Arsenal and on her channel.
What do you think? Let's talk! Leave a comment.
I help entrepreneurs (like you) use digital marketing to get more clients + to make more money. And I make it easy! 
You don't need crazy tech skills, buckets of cash, or dedicated staff to market your business. You don't even need a lot of time.
What you need is to be SMART.
DELIVERED TO YOUR INBOX
from your Digital Marketing Coach Torie Mathis!
Let's get SMART!