Tired of your marketing getting little results?
Get the 5 steps to get more subscribers, engagement, and SALES this week! (And make it EASY!)
How to Build An Email List Fast
You've probably heard you need to build an email list, and you know you've got to, but…
Building an email list takes time, effort, and a bit of planning. Some say it's the most challenging work a business does.
But the benefits are well worth it.
List building is one of the best ways to get new qualified leads and build relationships with your audience. Most say better than social media.
In fact:
Email marketing is worth the hard work.
And while it will take a bit of time to build your list, here are some ways to speed it up and grow your list faster.
But first, we interrupt this previously scheduled programming for this special announcement…
Email list building IS NOT buying a list of people. It is asking potential customers if they want to sign up, asking them for permission to email them, and using an email software program that allows them to unsubscribe easily – all as per the CAN-SPAM ACT of 2003. And this is no joke, on January 16, 2006, Jeffrey Goodin, 45, of Azusa, CA, was convicted by a jury in the United States District Court in Los Angles in United States v. Goodin, U.S. District Court, Central District of California, 06-110, under the CAN-SPAM Act (the first conviction under the Act), and on June 11, 2007, he was sentenced to 70 months in federal prison.
We suggest Kartra to stay compliant with email marketing laws; you can try it for 30 days for $1. 
Make Sign-up Forms That Stand Out
You want to create sign-up forms that grab people's attention and place your forms in a prominent spot on your site. Make sure you have one form above the fold; that is before people have to scroll so that you can catch anyone that lands on your site.
Design the form, so it's different from the rest of the page. There needs to be some contrast so that it doesn't get missed. If your site background is white with black text and your form is white with the same black text. It's going to get missed. Find a way to stay within your brand style but still allow for the form to pop out on your site.
Include benefit-driven calls-to-action telling people what they can expect from signing up. Don't just say sign up for my newsletter. Tell them why? Why should they care? What are they going to get? How is this going to help them?
Placement is also important for getting attention for your sign-up. Put your sign-up form in multiple places throughout your website. Put it on the top of your sidebar but also at the bottom of your site in the footer, at the end, or even worked into every blog post, and even add an exit pop-up to catch people right before they leave.
RELATED: 10 Email Marketing Ideas for YOUR Small Business
Name and Email Address Only
Your form should have just two fields for people to fill in – name and email address.
Don't ask for anything more than that.
These days email is already a big ask, and if you make it even harder or more complicated to sign up, people just won't do it. Every time you add a request for another item, your chances of getting someone to sign up goes way down.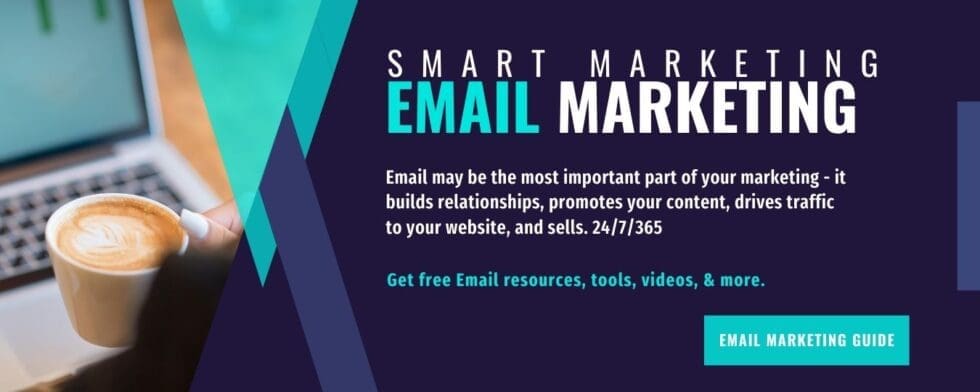 Shout Out Your Email List
And don't just put your email sign up on your website but tell people about it everywhere you talk to your audience.
Put it in your social media profiles, email signature, marketing materials, on your Google listing, and anywhere else people might potentially see it.
Talk about the Benefits
What unique value will someone get by being on your list? Identify this and explain it anytime you talk about your list.
If you understand your target buyer well and you can offer them something they find irresistible. Frame it in terms of how being on your list will improve their life, save them time or money, or get the results faster.
Use a Freebie
One of the best ways to entice more people to sign up is by using a lead magnet or a freebie.
This is a free piece of content that people get in exchange for their name and email address. The lead magnet also gives people a peek at the value they can expect from your list.
The best lead magnets are high in perceived value and low in commitment. And that includes a commitment in time. Yes, your 4-hour video series or 300-page e-book may be high in value, but both are too high of a time commitment for people just getting to know you.
Baby steps here.
Your best bet is something easy to digest, will give them quick results, and solves only one problem. Checklists, cheat sheets, resource guides, or specific tutorials are always good options. So think simple, even if you have the urge to give them everything at once.
Want to make your email list building easier? I built done-for-you email list-building funnels, that you can set up in minutes. Check them out at smartaffunnels.com
Tell People In Real Life
Don't forget to tell all the people you meet offline about joining your list as well. If you have a brick-and-mortar store, let customers know about your list and give them an easy way to sign up at checkout.
You can also include a link to sign up for all of your printed materials as well.
Going to an event?
Plan ahead, and use it as an email-building event. What can you offer people there to get them to sign up for your list? Instead of handing out just your business card, hand out a compelling, irresistible invite to your email list.
Track What's Working
Keep track of where the majority of your new subscribers are coming from.
If you find your Facebook page is driving more traffic to your list, focus more of your efforts there.
Try other social media sites, like Instagram or Linkedin, to see if you get similar results.
If you find you're putting in a lot of work somewhere and no one is signing up, don't be afraid to stop putting in the time there. Go with what works for your business.
Do you want to learn more about growing your email list faster?
I have a free Email List Building Blueprint that you can use to exponentially start to grow your list. Grab it here
Want to learn more about how to grow your business faster? Sign up for my weekly email and get marketing tips, software suggestions, and lots of cool freebies to help you run your business smarter. 
About Digital Marketing Expert Torie Mathis
Torie Mathis helps entrepreneurs, like you, use digital marketing to grow your business without wasting time, money, or your sanity.  She is a best-selling author, Army veteran, speaker + trainer, and your digital marketing coach. You don't need crazy tech skills, buckets of cash, or dedicated staff to market your business. In fact, you don't even need a lot of time. What you need is to be SMART.
Torie hosts SMART AF, a show for non-techy entrepreneurs looking to grow their business, with her husband Sean and is the creator of SMART AF Magazine. Learn from Torie at the Smart Arsenal and on her channel.
Is Your Marketing Taking You Away From The Things You Love?
What if you could get amazing results from your marketing without spending more time, more money, AND it was easy and predictable? Sean and I have suffered through it too, and we found the answer...
I help entrepreneurs (like you) use digital marketing to get more clients + to make more money. And I make it easy! 
You don't need crazy tech skills, buckets of cash, or dedicated staff to market your business. You don't even need a lot of time.
What you need is to be SMART.
DELIVERED TO YOUR INBOX
from your Digital Marketing Coach Torie Mathis!
Let's get SMART!