Tired of your marketing getting little results?
Get the 5 steps to get more subscribers, engagement, and SALES this week! (And make it EASY!)
Automate your Sales with A Funnel
Many people think they have a landing page up with a product for sale, and their funnels are done, but that is definitely not the case.
The web pages that make up your sales or opt-in funnel are only the beginning. To get sales, you need to stay in contact with those that opt-in. The easiest and most effective way to do that is through email.
Let's take a look at a sample follow-up sequence for a free opt-in offer.
In this example, the reader attended a free webinar promoting a high-ticket training program. In the days that follow, you must stay in contact with an autoresponder sequence that automatically sends an email at specific intervals if you want to make sales. Most people will not buy the first time they are asked.
Email 1
This is the first email that goes out after they opt-in. It should give the reader access to the free webinar, so that can be a link to your replay, or that instructions to join you at the live event. You will also want to include a couple of reminder emails if you are hosting a live event.
Email 2
This email would include the replay email for a live event, or the first follow-up if the original offer was a replay. In this email give a few bullet points of what they learned, encouragement to watch the replay (if you can provide some urgency and only make it available for a couple days the better), and make an offer to purchase the training program.
Email 3
A couple days later, follow-up again. This time, include a case study of someone who found success in your training program. When you combine great results and a great offer you can motivate more people to act on your offer.
Email 4
Use this follow-up message to remind readers that the replay is going away soon (if it is), and answer any objections or questions they might have about the training. For example, you might list some FAQs or questions you've received about your program.  Be sure to ask for the sale again and tell them to act now. Don't assume they will act without the call to action.
Email 5
This is your final reminder that your offer is going away soon. At this point, you may want to encourage the reader to email you with any questions.
Email 6 and beyond
If your reader reached this point and did not buy, then it may be that your product is just not right for her. From this point on, continue to stay in contact by offering more useful material, case studies, tips, and other interesting content, and also to provide additional products you have available.
One important thing to remember, if your reader buys your program any time during the emails, you must remove her from this sequence. It makes no sense for her to get the final email if she purchased your program after the second email. Most autoresponder services have this automation built in that allows you to move subscribers from one list to another list based on their actions. Be sure to set that up as you're creating your sales funnel emails.
This kind of hand's off approach to email marketing is what will help you build an automated sales funnel, so look for opportunities to use this system as you build your business.
Here's to creating the life you LOVE!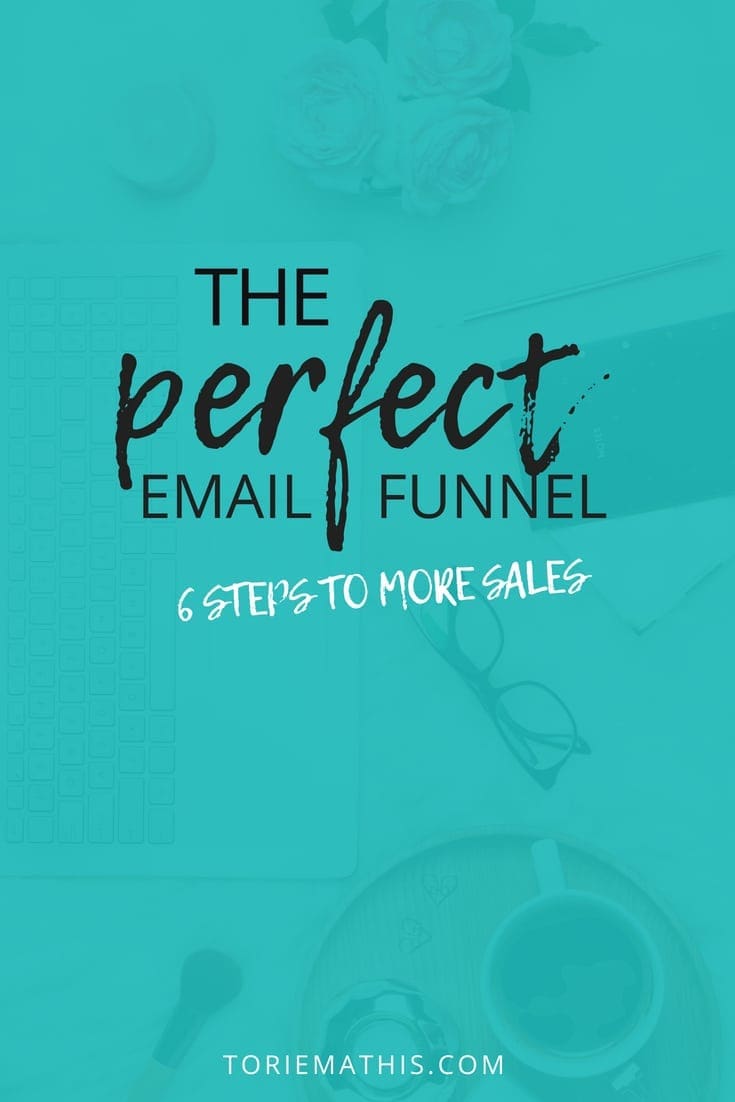 About Digital Marketing Expert Torie Mathis
Torie Mathis helps entrepreneurs, like you, use digital marketing to grow your business without wasting time, money, or your sanity.  She is a best-selling author, Army veteran, speaker + trainer, and your digital marketing coach. You don't need crazy tech skills, buckets of cash, or dedicated staff to market your business. In fact, you don't even need a lot of time. What you need is to be SMART.
Torie hosts SMART AF, a show for non-techy entrepreneurs looking to grow their business, with her husband Sean and is the creator of SMART AF Magazine. Learn from Torie at the Smart Arsenal and on her channel.
What do you think? Let's talk! Leave a comment.
I help entrepreneurs (like you) use digital marketing to get more clients + to make more money. And I make it easy! 
You don't need crazy tech skills, buckets of cash, or dedicated staff to market your business. You don't even need a lot of time.
What you need is to be SMART.
DELIVERED TO YOUR INBOX
from your Digital Marketing Coach Torie Mathis!
Let's get SMART!