Tired of your marketing getting little results?
Get the 5 steps to get more subscribers, engagement, and SALES this week! (And make it EASY!)
The Powerful Secrets to Knowing Who is your Target Audience?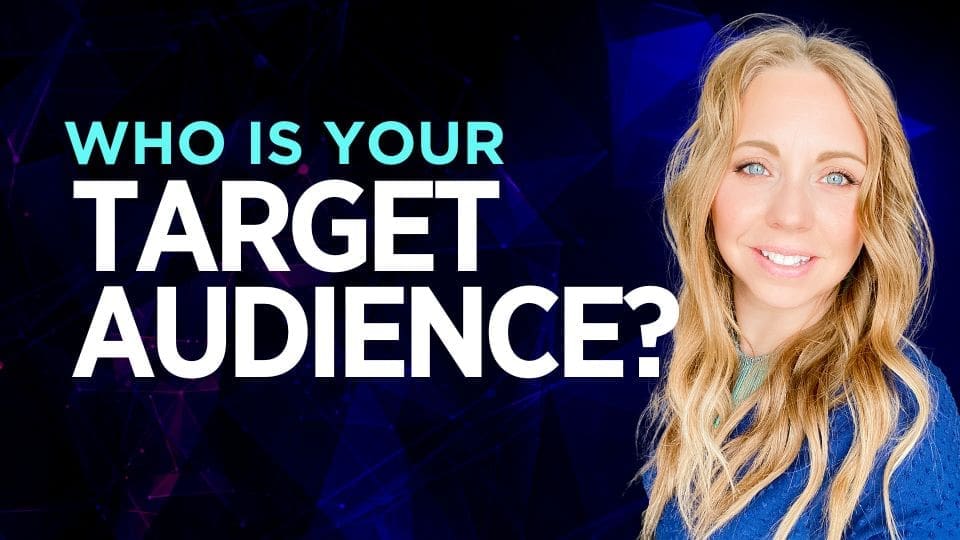 Have you put out a post on Facebook or an advertisement only to be met with the sound of crickets? Have you wondered what happened? 
You know you have a great product, and your customers love it, yet when you try to get the word out, nothing happens.
This is actually a common problem for many small business owners. When speaking with your audience you need to make sure you are saying the right thing, at the right time, to the right people. All of this encompasses your marketing message.
That is the M in SMART Marketing…Message. 
When you have your message right, your marketing works. Your customers feel like you are speaking to them, like you made your product for them, like you know exactly what they're thinking and how they feel. They know you can solve their problems.
RELATED: Marketing Message SMART Guide
How to dial in your message and speak directly to your customers
The first step in learning your customer's language is to know exactly who your target audience is.
How do you find out exactly who is your target audience?
I want to share a simple process to help you discover who your target audience will help you throughout your marketing and business-building journey.
Before you learn these steps, something to keep in mind is that you can't do market research one time and think you're done for good.
Your Audience Will Change
Your audience's demographics can stay the same for 50 years, but the audience will still change quite a bit in terms of language, problems, morals, and values. So, you have to keep studying.
Some of your audience research will start with an educated guess. For example, you know the type of client or customer you want to work with, right? If you don't sell anything just yet, you can make an educated guess.
If you're already making sales, you can look at your past clients to find out who already makes up your audience. But this guessing gets you started. Here are your next steps to discovering more about your target market:
1. Create Your Customer Avatar
Define your audience's age, gender, income level, location, and any other characteristics that make them an ideal customer.
For example, do they have children, where they live, do they have a specific religion, share hobbies, and interests, etc.? You want a specific picture of your ideal customer in mind so that you can start researching more about them. 
RELATED: Ideal Customer Profile Course
2. Research Your Audience
Once you've created your customer avatar, you can start researching your audience to ensure they are a good fit. You can ask questions, conduct interviews, and even create focus groups to help you get to know them more. You can also speak with your current customers to find out more about your target market.
RELATED: How to do Customer Research
3. Join Your Audience
As you conduct your research, you're going to find that your audience hangs out in different places, both online and offline.
Join them where they hang out and become a fly on the wall where you can observe their wants and desires and learn the exact language they use. This will allow you to connect with them in all of your marketing. Please don't assume you know about them; take the time to do the research.
RELATED: What Social Platform is Best for My Business?
4. Research the Competition
A great way to find more people who fit your target audience is to research your competition. Sign up for their email lists, buy products from them, and join the groups they are part of so you can see how they engage with their audience.
You never want to copy what they are doing, but use what they do as inspiration and ideas to better engage with your audience.
You'll find that your target audience is a cross between who you want to do business with and who needs your products and services. Once you begin to learn more about them and create your customer avatar, you will be able to find and connect with more people who are a fit for you and your services.
Want to dive further into your Target Market?
The Smart Arsenal has everything you need. From Customer Research and creating your Ideal Customer Profile to creating Marketing Messages that will make your ideal customers feel like you are talking right to them this program has everything you need. Find out more about this small business marketing program, the Smart Arsenal.
About Digital Marketing Expert Torie Mathis
Torie Mathis helps entrepreneurs, like you, use digital marketing to grow your business without wasting time, money, or your sanity.  She is a best-selling author, Army veteran, speaker + trainer, and your digital marketing coach. You don't need crazy tech skills, buckets of cash, or dedicated staff to market your business. In fact, you don't even need a lot of time. What you need is to be SMART.
Torie hosts SMART AF, a show for non-techy entrepreneurs looking to grow their business, with her husband Sean and is the creator of SMART AF Magazine. Learn from Torie at the Smart Arsenal and on her channel.
What do you think? Let's talk! Leave a comment.
Is Your Marketing Taking You Away From The Things You Love?
What if you could get amazing results from your marketing without spending more time, more money, AND it was easy and predictable? Sean and I have suffered through it too, and we found the answer...
I help entrepreneurs (like you) use digital marketing to get more clients + to make more money. And I make it easy! 
You don't need crazy tech skills, buckets of cash, or dedicated staff to market your business. You don't even need a lot of time.
What you need is to be SMART.
DELIVERED TO YOUR INBOX
from your Digital Marketing Coach Torie Mathis!
Let's get SMART!