Tired of your marketing getting little results?
Get the 5 steps to get more subscribers, engagement, and SALES this week! (And make it EASY!)
Increase Your Sales and Your Reach with Facebook Ads
Social media is a simple way to grow your following and to engage with your audience and, but it can sometimes feel like a tedious, slow process.
If you want to finally take control and speed up leads and sales from Facebook, try using Facebook Ads to expand your reach.
Facebook Ads are created in the Facebook Ads Manager. You'll need to know the demographics of your target market as well as your budget and how long to run your ad.
But first, Facebook wants you to pick your ad objective. You have about 12 objective options to choose from like traffic or lead generation. 
Next, you set up the ad.
Choose which Facebook Business Page you want to promote and then begin to choose the demographics. If you look at the little gauge in the right margin, you'll see a Potential Reach number that may be in the millions.
This number is only an estimate, but who wouldn't want a million new leads, right? Don't get fooled. Of those millions of people, how many would be actual QUALIFIED leads? 
Knowing your target market demographics will help to whittle down the potential numbers, and they will more accurately match your target market's qualifying traits.
Target Followers of OTHER Facebook Pages
Yes, this really is a thing! And no, you're not stealing the audience from other brands; you're merely paying to be in from of those followers in hopes of attracting them to your business.
After you enter your demographic information, click on the Interests field, and enter the name of a Facebook Page you want to target. If the page is popular enough, it will likely show up as a match in the dropdown box. If a match doesn't show up as you type in a page name, it' may not be available for targeting. Try other pages that could be a match to your audience.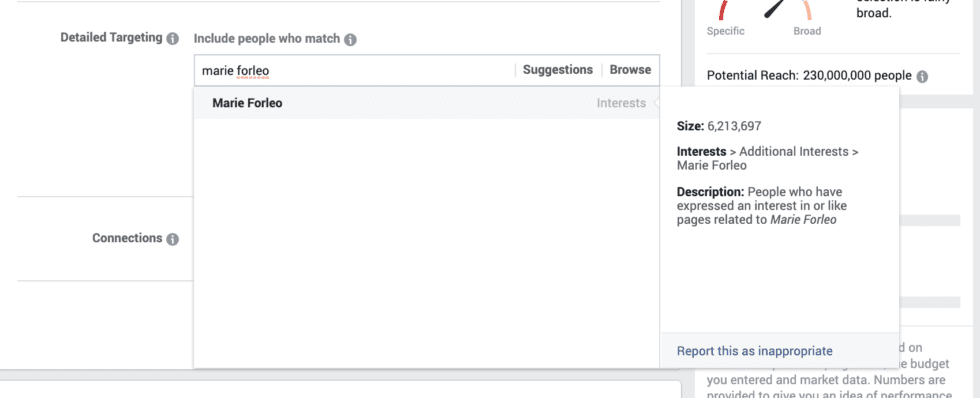 When it comes to setting your budget, you can start as low as $1 per day, but as with most things, you really get what you pay for. A smaller budget will reach fewer people, and running an ad for fewer days can also reach fewer people.
Figure out how much you can realistically budget on this campaign then decide how many days you want the ad to run.
Tips for Designing an Effective Facebook Ads
You may know that Facebook has a laundry list rules about anything and everything on their platform and how you should design an ad is no exception. 
Your ad should have an image, and you are limited to how much text you have as an overlay. Facebook's magic number is less than twenty percent text on your actual graphic, so follow those guidelines, so your ad performs better.
This twenty percent rule does NOT include the body copy of your ad (which appears above your graphic) only the text on the actual image. Exceptions to the twenty percent rule are book or magazine covers, album covers, etc. which have text printed on them. You may need to request a manual review if this is the case.
Also, be sure you have the rights to use an image! Your best bet is always to use your own photo or purchase a stock image. Grabbing images from Google Images is not legal in most cases and very well could be copyright infringement. 
If you're looking to get new leads or sell your latest product or service, running Facebook Ads can be a fantastic investment. 
Once you're clear on who your market is, you simply follow the steps as Facebook has laid out. Once your ad is running, you will want to log in to your Ad Manager to analyze the performance results. Use both the data Facebook gives you and how many actual leads and sales your ad has brought in.
Using all of this data, you can decide on your return on your ad investment is worth and how to better improve your ads over time.
If you need help with this let me know.
t
About Digital Marketing Expert Torie Mathis
Torie Mathis helps entrepreneurs, like you, use digital marketing to grow your business without wasting time, money, or your sanity.  She is a best-selling author, Army veteran, speaker + trainer, and your digital marketing coach. You don't need crazy tech skills, buckets of cash, or dedicated staff to market your business. In fact, you don't even need a lot of time. What you need is to be SMART.
Torie hosts SMART AF, a show for non-techy entrepreneurs looking to grow their business, with her husband Sean and is the creator of SMART AF Magazine. Learn from Torie at the Smart Arsenal and on her channel.
I help entrepreneurs (like you) use digital marketing to get more clients + to make more money. And I make it easy! 
You don't need crazy tech skills, buckets of cash, or dedicated staff to market your business. You don't even need a lot of time.
What you need is to be SMART.
DELIVERED TO YOUR INBOX
from your Digital Marketing Coach Torie Mathis!
Let's get SMART!