Tired of your marketing getting little results?
Get the 5 steps to get more subscribers, engagement, and SALES this week! (And make it EASY!)
Growth Mindset – 5 Ways to Push Past A Plateau
Whenever you start doing something new, it's easy to see your progress in the very beginning. But once you reach a certain level, you plateau. We all do. Your growth appears to slow down, and you may feel like you're just running in place.
Imagine you're learning a new language. Just starting out, every day, you learn how to say something new. But after a few months, you're not sure how to make progress in leaps and bounds anymore. And so it feels like you're not improving at all.
You can plateau in anything – at your diet, your business, or even learning to play an instrument. So how do you overcome this incredibly frustrating situation?
Time for a Change of Strategy
When you hit a plateau, it's the universe telling you it's time for a change of strategy. What has worked until now to spur your growth isn't working currently. To put it positively, you've become too good at what you're doing.
To grow, we have to steadily be challenged. When you hit a plateau, the challenges aren't challenging enough anymore. And that means you need to try something new.
Maybe it's time to launch products or services in a new category. Perhaps you've done all you can with your current audience, and it's time to branch out and work with a new crowd. Or you can look into some new marketing channels or add a new digital strategy to your mix.
Look for a Change
Perhaps there have been some changes that happened without you realizing it. For example, look at your demographics, sales, or traffic over the last year. See if something has happened that has caused your business to plateau. Start to brainstorm what you could do to overcome this.
The reason for your plateau may not be something you're doing. Maybe something has changed in the world or market that's impeding your growth. What change can you make to adapt to what's going on?
Track Your Progress
It's possible you are growing but just not seeing it. It's easy to see how you're learning when you just start out, but it's more difficult as you get better at it. Go back and look at the milestones you've achieved.
Write these down somewhere and begin to track your progress so you can remind yourself how far you've come. If you give yourself a visual representation of your progress, it's easier for you to "see" it.
Alyssa Gregory presents the following goal-setting and tracking tools to help you create, track, and achieve your most important goals. Whether you prefer to manage your goals on your smartphone or on your computer these tools can help you focus and achieve even your most ambitious goals.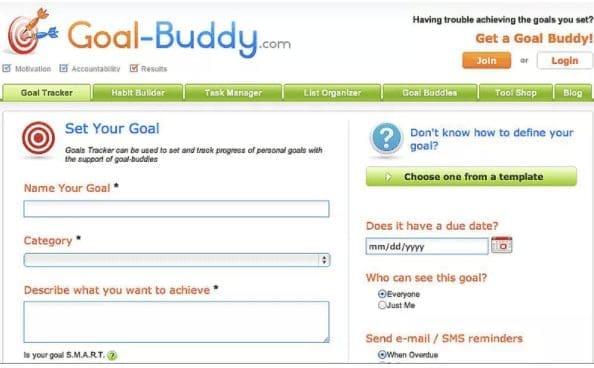 GoalBuddy is a free online goal tracking tool that helps you set and track your progress with the support of goal buddies who share similar goals, motivate you, and keep you accountable helping you stay on track. The system consists of web-based training materials, web-based tools and exercises, and a free mobile app.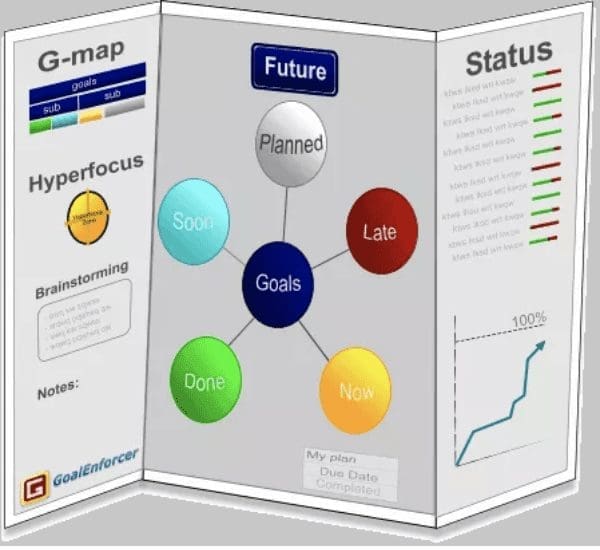 GoalEnforcer is visual goal-planning software for planning, focusing, and accomplishing goals. Features include the ability to drag and drop to rearrange your goals, color coding, status reports, a progress chart, and a calendar view. The software is available for Windows, Android, IOS, and Mac OS X systems. Prices range from $14 to $67 for the starter, standard, and hyperfocus editions.
Goalscape is goal-setting software that helps you define, work on, and reach your highest goals. It includes a unique visual display to identify, develop, and communicate the key elements of any complex project, including overall structure, relative importance, and progress tracking. It's available for Windows, Mac OS X, and Linux systems. The software can be used for free or by paying a one-time fee of $60 for an unlimited plan.
GoalsOnTrack helps you identify and accomplish your goals by focusing on the right activities. Features of this tool include action planning, to-do lists, time tracking, accountability partners, and a mobile app that lets you take your goals with you. It's a web-based application, so you can use it from any internet-enabled computer. Membership for this service costs $68 per year.
Joe's Goals is a free powerful tool that helps ambitious goal-setters track and manage their goals. The simple single-page interface makes it easy to set up daily goals and track them. A daily score measures your success while helping you confront and overcome bad habits. You can add as many goals as you want and update them all from a single interface.
Ditch the Echo Chamber
Sometimes plateauing is just a matter of your perception. You may be surrounded by people who pat you on the back and encourage you, but what you need are some stern criticism and some productive feedback. Identify people at the next level where you want to be and spend some time around them.
Adopt a Growth Mindset
You can prevent and deal with plateauing best if you adopt the growth mindset. This set of beliefs sees humans as dynamic beings that evolve and develop over time, not as something static or fixed. It helps you to overcome the limiting beliefs that are holding you back.
Saga Briggs offers these 25 ways to develop a Growth Mindset:
1. Acknowledge and embrace imperfections.
Hiding from your weaknesses means you'll never overcome them.
2.View challenges as opportunities.
Having a growth mindset means relishing opportunities for self-improvement. Learn more about how to fail well.
3. Try different learning tactics.
There's no one-size-fits-all model for learning. What works for one person may not work for you. Learn about learning strategies.
4. Follow the research on brain plasticity.
The brain isn't fixed; the mind shouldn't be either.
5. Replace the word "failing" with the word "learning."
When you make a mistake or fall short of a goal, you haven't failed; you've learned.
6. Stop seeking approval.
When you prioritize approval over learning, you sacrifice your own potential for growth.
7. Value the process over the end result.
Intelligent people enjoy the learning process and don't mind when it continues beyond an expected time frame.
8. Cultivate a sense of purpose.
Dweck's research also showed that those with a growth mindset had a greater sense of purpose. Keep the big picture in mind.
9. Celebrate growth with others.
If you truly appreciate growth, you'll want to share your progress with others.
10. Emphasize growth over speed.
Learning fast isn't the same as learning well, and learning well sometimes requires time for mistakes.
11. Reward actions, not traits.
Tell yourself you're doing something smart, not just being smart.
12. Redefine "genius."
The myth's been busted: genius requires hard work, not talent alone.
13. Portray criticism as positive.
You don't have to use that hackneyed term, "constructive criticism," but you do have to believe in the concept.
14. Disassociate improvement from failure.
Stop assuming that "room for improvement" translates into failure.
15. Provide regular opportunities for reflection.
Reflect on your learning at least once a week.
16. Place effort before talent.
Hard work should always be rewarded before inherent skill.
17. Highlight the relationship between learning and "brain training."
The brain is like a muscle that needs to be worked out, just like the body.
With an extrabit of determination, you will be more likely to seek approval from yourself rather than others.
19. Abandon the image.
"Naturally smart" sounds just about as believable as "spontaneous generation." You won't achieve the image if you're not ready for the work.
20. Use the word "yet."
Dweck says "not yet" has become one of her favorite phrases. So whenever you're struggling with a task, tell yourself you haven't mastered it yet.
21. Learn from other people's mistakes.
It's not always wise to compare yourself to others, but it is essential to realize that humans share the same weaknesses.
22. Make a new goal for every goal accomplished.
You'll never be done learning. However, just because your project is over doesn't mean you should stop being interested in a subject. Growth-minded people know how to constantly create new goals to keep themselves stimulated.
23. Take risks in the company of others.
Stop trying to save face all the time and just let yourself goof up now and then. It will make it easier to take risks in the future.
24. Think realistically about time and effort.
It takes time to learn. So don't expect to master every topic under the sun in one sitting.
25. Take ownership over your attitude.
Once you develop a growth mindset, own it. Acknowledge yourself as someone who possesses a growth mentality and be proud to let it guide you throughout your career.
If you've hit a plateau at your business, your workouts or your guitar skills are falling flat remember that a plateau isn't permanent, you just have to adjust your mindset for growth.
Want to learn more about improving your success mindset? Sign up for my weekly email and get marketing tips, software suggestions, and lots of cool freebies to help you run your business smarter. 
Here's to working SMART.
About Digital Marketing Expert Torie Mathis
Torie Mathis helps entrepreneurs, like you, use digital marketing to grow your business without wasting time, money, or your sanity.  She is a best-selling author, Army veteran, speaker + trainer, and your digital marketing coach. You don't need crazy tech skills, buckets of cash, or dedicated staff to market your business. In fact, you don't even need a lot of time. What you need is to be SMART.
Torie hosts SMART AF, a show for non-techy entrepreneurs looking to grow their business, with her husband Sean and is the creator of SMART AF Magazine. Learn from Torie at the Smart Arsenal and on her channel.
I 
help entrepreneurs (like you) use digital marketing to get more clients + make more money. And I make it easy!
You don't need crazy tech skills, buckets of cash, or dedicated staff to market your business. You don't even need a lot of time.
What you need is to be SMART.
DELIVERED TO YOUR INBOX
from your Digital Marketing Coach Torie Mathis!
Let's get SMART!

*Posts may contain affiliate links. If you use these links to purchase, I may earn a commission at no additional cost to you.