Tired of your marketing getting little results?
Get the 5 steps to get more subscribers, engagement, and SALES this week! (And make it EASY!)
How to set up a Google Business Profile
Did you know that Google is the world's most-visited website?
Google currently gets more than 92% of search engine requests.
That means creating a Google Business Profile (formerly Google My Business) is a super important way to attract new customers to your business online. (you know, 90% of searches).
But if you want to be a part of all that search traffic for your business, you need to set up and optimize your Google business profile correctly.
In this article, we are going to go over the Business Profile Google offers:
What is the Google Business Profile (Google My Business)
Why you need a Google Business Profile
How to set up your Google Business Profile
How to fully optimize your Google My Business profile
Let's get started.
What is Google Business Profile (previously Google My Business)?
Google Business Profile is the free business listing offered by Google. It's where you provide the details and photos of your business, like your location, services, and your products.
Creating your free profile is a great way to increase your visibility across all of Google's services. Information from your Google Business Profile can show up in Google Search, Google Maps, and Google Shopping. It's the gateway to reaching customers on Google or anyone using the Chrome browser. And with over 90% of the search share going to the Google, you can bet your customers are there.
Google Business Profile Restrictions
There are some restrictions to who can use GMB, however.
The Google Business Profile is available only to businesses that have contact with customers. This includes businesses with brick and motor locations and businesses that provide services that meet with clients at locations (like coaches or painters). According to Google:
Google Business Profile Eligible Businesses
To qualify for a Business Profile on Google, a business must make in-person contact with customers during its stated hours.
There are some exceptions:
ATMs, video-rental kiosks, and express mail drop boxes are permitted. If you add these locations, you must include contact information for customers to get help.
Seasonal businesses, like an ice-skating rink only open in winter months, are eligible. These businesses must display permanent signage at their location year-round.
Delivery-only food services are permitted with some conditions. Learn more under Virtual Food Brands.
Google Business Profile Ineligible Businesses
The following businesses are not eligible:
Rental or for-sale properties such as vacation homes, model homes, or vacant apartments. Sales or leasing offices, however, are eligible for verification.
An ongoing service, class, or meeting at a location that you don't own or have the authority to represent.
Lead generation agents or companies.
Other businesses, such as online-only businesses, though not eligible for a Google Business Profile, are able to use other Google features like Google Analytics and Google Ads.
Why you need a Google Business Profile
Get discovered on Google Searches and Google Maps
Whether you're looking to get customers in the door or onto your website, Google is the ultimate referral tool. Your Google Business Profile helps people find your business when searching for services and products like yours in their local area.
Your Google Business listing shows searchers where you are and how they can visit your business. Your Profile also improves your local Search Engine Optimization. For example, the Google listing for a local business is likely to appear when people search for a local business using Google Maps.
Control Your Business Details
Your Google Business profile allows you to control and update your contact information, business hours, and other details as needed.
You can post updates to share sales or promotions, temporary closures, or that you're fully reopened (which came in very handy during recent times). Google Business Profiles have great local SEO, so the information you share will rank above third-party sites, so you want to be sure to keep your google info up to date.
Build Credibility With Reviews
Reviews are a top element of social proof, and they are a meaningful way for your business to build credibility and trust.
Google's star rating and detailed reviews allow customers to share as little or as much information about their experience as they'd like. All of it helps potential customers decide which businesses to visit and which products to buy.
It can be nerve-racking to think about reviews coming in on a public platform, especially since you can't pick and choose which reviews to show. Although you can and should respond to all reviews.
How to Respond to Negative Google Reviews
 

 

View this post on Instagram

 
But don't worry too much: a combination of positive and negative reviews is more trustworthy than page after page of all five-star reviews. And everyone knows you can't please everyone and gets that even the greatest business will have a handful of not-so-great reviews.
How to set up a Google Business Profile
Let's go through the steps to create a business profile on Google. 
If you're already logged into your Google account, then you're automatically logged into Google Business Profile Manager. If you're not, just enter your usual Google account login credentials or create a new Google account if necessary. This is where you will create a Google business profile. 
Google Business Profile Login Here
Step 2: Add your business name
Next, add your business name. If it doesn't appear in the drop-down, click Add your business to Google. Then select the category for your business and click Next.
Step 3: Enter your business location
If you have a brick and motor location that your customers can visit, select Yes. Next, add your business address.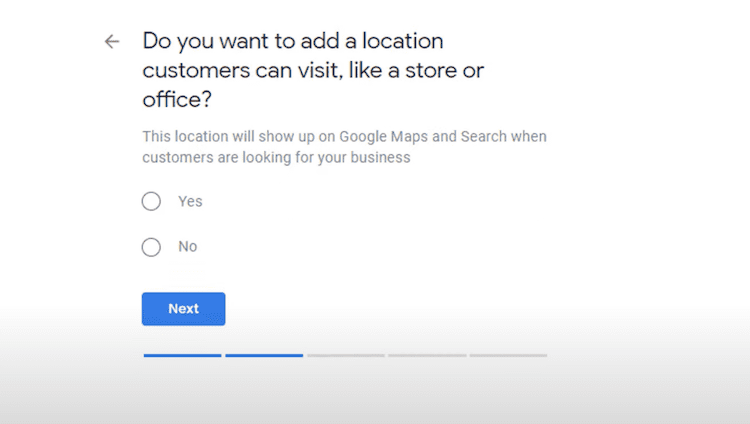 You may need to position a marker for your location on a map. If your business doesn't have a physical location customers can visit but offers in-person services or deliveries, you can add your service areas. Then click Next.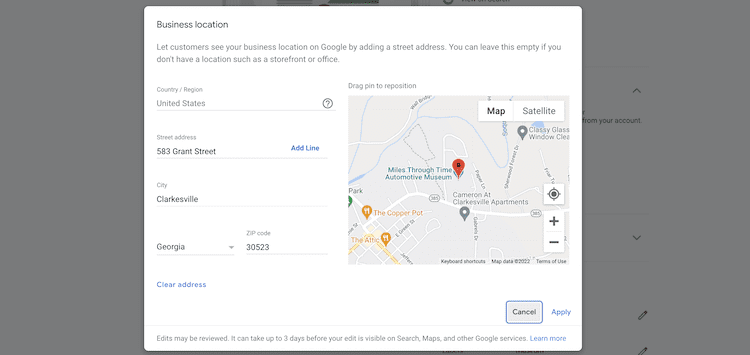 If you didn't enter an address, Google will ask you to specify which region you're in. Choose from the drop-down and click Next.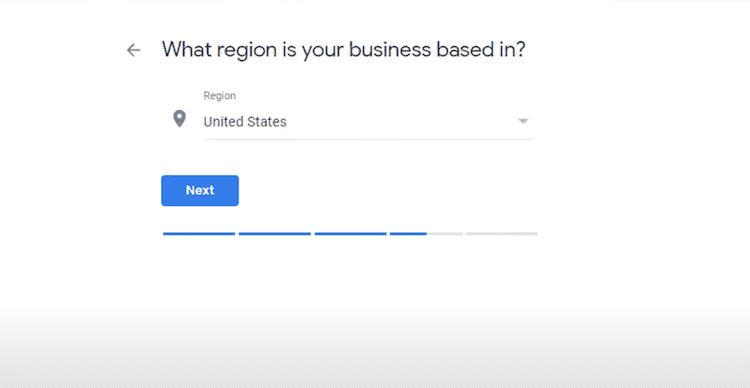 Step 4: Fill in your contact details
Enter your business phone number, email, and website address so customers can contact you. If you prefer not to be contacted by phone, you don't have to enter a phone number.
When your info is complete, click Next.
Step 5: Verify your business
Next, enter your actual physical address, not a PO box. This is only used to verify your business and will not be displayed on your Google Business Profile or shared publically.
Enter your address and click Next. You'll be offered options for verifying your account. Physical businesses will get a postcard by mail to verify location. Service-area businesses can be verified through email.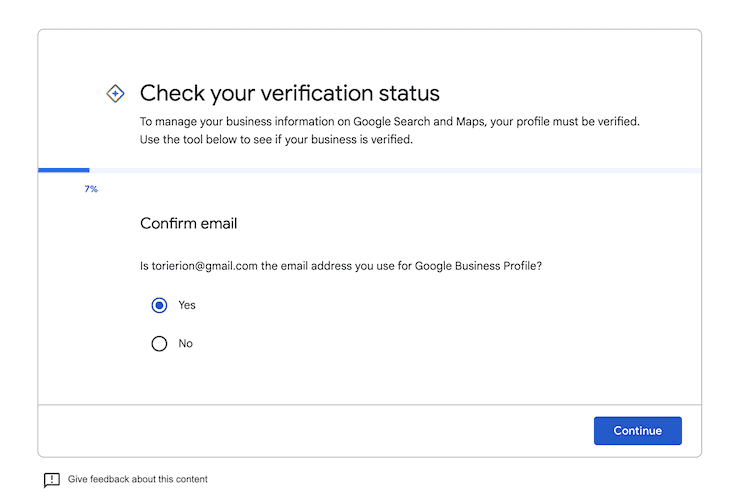 Once you receive the five-digit code, you can enter it at https://business.google.com/ and click Verify.
Once you have verified, you will see a confirmation screen showing you are good to go. You're ready to move on.
Step 6: Customize your Profile
To customize your profile, you will enter your business hours, message preferences, business description, and your photos. (Coming up, we'll get into more details on how to optimize your Profile).
When you're ready, click Continue. You'll then be on the Business Profile Manager dashboard. Consider this your home base on Google.
From here, you can manage your profile, update details, view your insights, manage and respond to reviews and messages, and create Google ads.
But you're not done just yet. Next, you want to fully optimize your Profile.
How to Optimize Your Google Business Profile
Google works out local search ranking based on these key factors:
Relevance: This is how well your Google Business listing matches a search
Distance: This is how far your location is from the searcher
Prominence: This is how well-known your business is (based on factors like links, number of reviews, review score, and your SEO)
Here are a few steps you can take to maximize your score for all three factors.
Complete every part of your business profile
Google found that customers are 2.7 times more likely to consider a business trustworthy if you have a completed Google Business Profile. They're also 70% more likely to visit your location when it's all filled out, so don't skip this.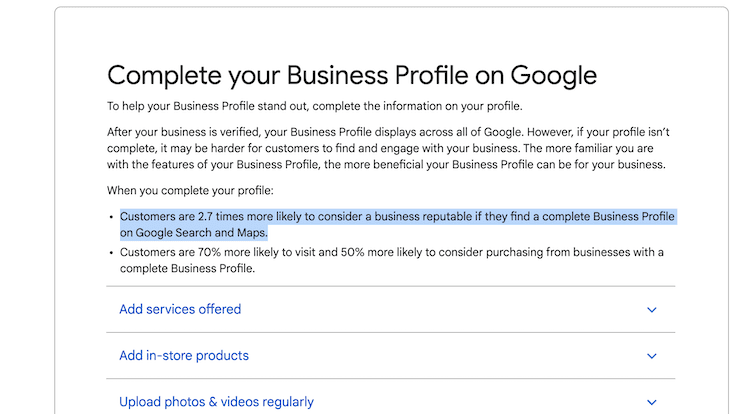 Google specifically says, "businesses with complete and accurate information are easier to match with the correct searches." This is how you increase your relevance score. The key here is to tell visitors "what you do, where you are, and when you're open."
If your hours change around holidays or the time of year, be sure to keep your profile up to date.
Verify your location(s)
Google says that verified business locations are "more likely to show in local search results across all Google products, like Maps and Search." Having a verified location also helps improve your score for the distance ranking factor. So that means you do not want to pass this step.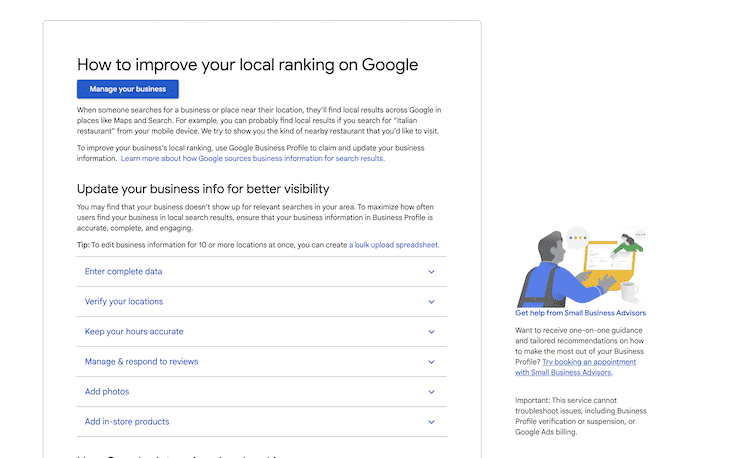 If you didn't verify your location in your account creation, you can still request your verification postcard anytime from https://business.google.com/.
Include Keywords In Your Profile
Using the right keywords will improve relevance, so Google knows who to show your listing to. Not sure where to start? Try Google Trends or Keyword Planner.
Incorporate keywords in a natural way into your business description. Don't stuff in keywords or use irrelevant ones – this can actually hurt your search ranking. Google's smart, so stay honest.
Why Add Images and Videos To Your Google Business Profile
Your Google Business Profile includes your logo and a cover photo. Be sure to use images consistent with those on your social profiles to make it easier for people to recognize your brand across the interwebs.
But don't stop there. Add images and videos that showcase your location, your services and products, and even your team.
If you have a restaurant, post pictures of your meals, menus, and your dining room. Make sure they look professional and aren't blurry or hard to see. According to Google, businesses with more photos receive more requests for directions and more clicks to their website.
Google Business Profile Photos Example
I want to show you something.
Sean is fantastic at adding photos of his museum, Miles Through Time, to his Google page, and because I'm an admin on the account, I get the monthly emails google sends with the photo stats, and you've got to see these.
Over one month, just from adding photos, the same photos he adds to his social media accounts get him hundreds of thousands of views on Google for free.
Look at this one, 112k views, this one 135k.
And this one, you guys…909k views; almost 1M views in one month on Sean's Miles Through Time Photos.
And these aren't special photos; they are just ones he takes with his phone and adds them. No editing or special equipment, and it only takes a few minutes to do.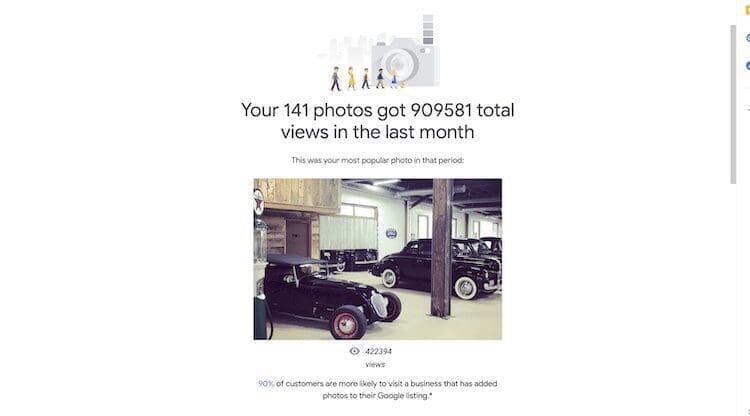 How to add photos to your Profile on Google:
From your dashboard, click on Photos on the left menu.
Start by adding your logo and your cover photo. You can upload an image directly, choose one from your Business Profile album, or choose a photo in where your business has been tagged.
To add more photos, you can click At Work or Team in the top menu of the photos page and add them all there.
To add videos, just click the Video tab at the top of the photos page and upload your videos.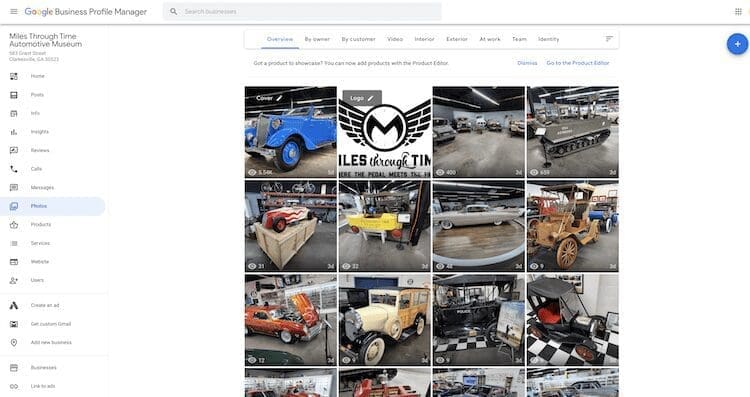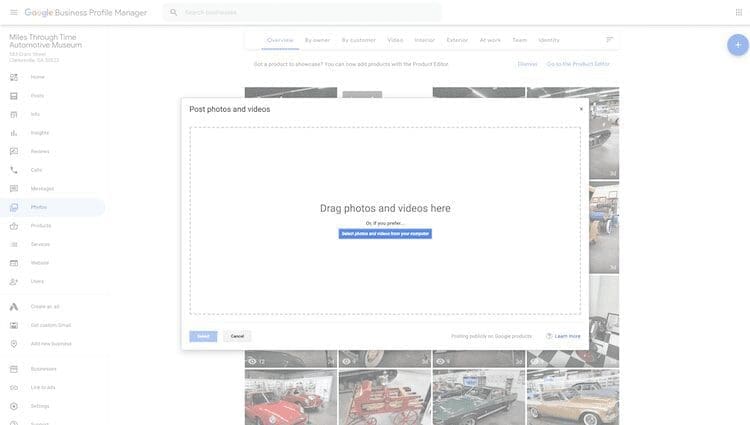 Encourage and respond to reviews and questions
Customers trust other people more than they trust a business. A good review can be the important deciding factor that tips prospective customers in your favor. Reviews will also improve your Google ranking.
But you've got to be proactive with reviews and ask for them.
The best time for you to ask for a review is after providing a great experience. To make it easier, Google provides you a direct link to ask customers to review your business.
How to get your Google review link:
From your dashboard, scroll down to the button called Share review form.
You can copy and paste the link for your customers or into your autoresponder email and even add it to your online receipts.
And just so you know, you cannot turn off reviews for your Google My Business page. And it wouldn't be in your best interest to do so anyway, as reviews show customers that your business is legit.
But, you do have the ability to flag and report inappropriate reviews.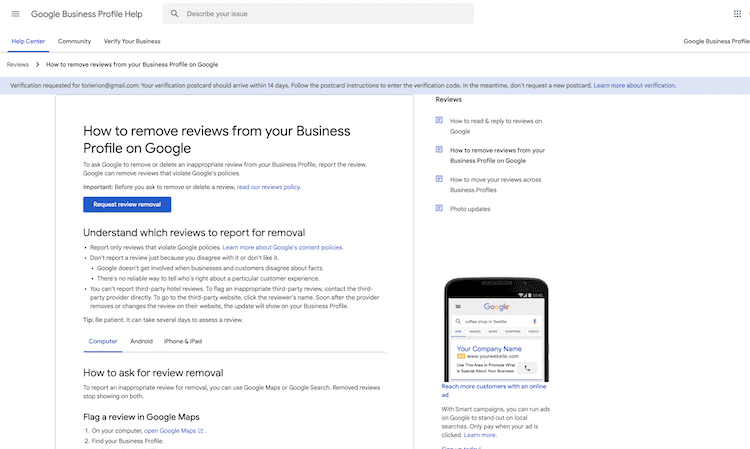 You can (and should!) respond to all reviews, both positive and negative—every single one. According to Google, businesses that respond to reviews are considered more trustworthy than those that don't respond.
Respond professionally in a consistent way with your brand. When responding to a negative review, be honest and offer an apology when it's warranted. Whatever you do, don't argue but try to make things right and leave a positive example of how you treat your customers. Remember your response lives forever for the eyes of all to see.
How to Respond to Your Google Reviews
To view and respond to your reviews, click the Reviews tab on the left menu of your Business Profile Manager.
Keep your information Current
Make sure to update your business information if you change your hours, get a new phone number, or change your offerings. Nothing annoys customers more than showing up when you say you're open only to find you closed. Hello, bad review. Ouch.
If you have special hours for the season or holidays or even a one-off change, make sure they are noted in your Google Business Profile, as your changes are pretty instant.
You can also create posts on your Profile to share updates, product news, offers, and events.
To edit your Google Business profile information:
You can get back to your dashboard to make changes at any time at business.google.com.
You can also easily edit your business information directly from Google search or Maps if you are logged in. Just search your business name anywhere on Google to access the editing dashboard.
To create your Google Business posts:
From your dashboard, click Posts on the left menu.
Click Create post.
Choose what type of post you want to create: a COVID-19 update, an offer, What's New, a product, or an event. Each post type has different information to fill out.
Add your post and preview it before publishing to make sure it looks how you want. If you publish a post and see a mistake, you can easily edit it by going to the post, clicking the three little dots, and choosing edit.
(see video above for demonstration)
Add Special Features and Attributes
There are different special features available for Google business accounts, depending on which category you've chosen.
Here are some of the category-specific features available:
If you think that your business is eligible for one of these features, but you don't see it, you may have picked the wrong category, so go and see what you've picked. You can pick up to ten categories for your business.
You can also add other attributes to your Profile to share more information your customers may care about. You may want to share that your shop is wheelchair accessible or you offer free Wi-Fi or outdoor seating.
How to add or edit your attributes:
From your dashboard, click info.
Under From the business, click Add attributes. If you've already added attributes and need to add more, click the pencil icon next to From the business.
Then scroll through the available options for your business, check the applicable attributes, and click Apply.
(see video above for demonstration)
Add your products
If you sell products, you can add your inventory to your Business Profile. In addition to appearing on your Profile, your products can appear on Google Shopping.
To add your products to your Business Profile manually:
From your dashboard, click Products on the left menu, then click Get Started to add your first products.
If you have a product-based business in the U.S., Canada, Ireland, the UK, or Australia, and you have a barcode scanner to sell your products with manufacturer barcodes, you can use Pointy to automatically add your products to your Profile.
Use Google's free marketing tools
Google gives businesses access to a free marketing kit with stickers, social posts, and even printable posters. You can even create a custom video for your business.
You can find the kit at marketingkit.withgoogle.com
Google Business Profile Help
If you need Google business profile help, or get stuck editing or trying to create a Google business profile you can head over to Google help or leave a comment below and we will help you out! 
Are you ready to get your Google Business Profile Set up and Optimized?
With over 90% of searchers heading to Google to find you, your Google My Business Profile is a tool you can't ignore.
We covered:
What is Google Business Profile
Why you need a Google Business profile
How to set up your Google Business Profile
How to optimize your Google Business Profile
And you're ready to go.
If you have any questions or problems, Google has a great support center and is pretty good at helping you find answers, and you can comment here with any questions. I would as always be happy to help you out if I can.
And remember, you don't need crazy tech skills, buckets of cash, or dedicated staff to market your business. In fact, you don't even need a lot of time.
What you need is to be SMART. And your Google Business Profile is a Smart way to promote your business and get found online.
Want to know more about how to grow your business with digital marketing, check out these.
About Digital Marketing Expert Torie Mathis
Torie Mathis helps entrepreneurs, like you, use digital marketing to grow your business without wasting time, money, or your sanity.  She is a best-selling author, Army veteran, speaker + trainer, and your digital marketing coach. You don't need crazy tech skills, buckets of cash, or dedicated staff to market your business. In fact, you don't even need a lot of time. What you need is to be SMART.
Torie hosts SMART AF, a show for non-techy entrepreneurs looking to grow their business, with her husband Sean and is the creator of SMART AF Magazine. Learn from Torie at the Smart Arsenal and on her channel.
What do you think? Let's talk! Leave a comment.
I 
help entrepreneurs (like you) use digital marketing to get more clients + make more money. And I make it easy!
You don't need crazy tech skills, buckets of cash, or dedicated staff to market your business. You don't even need a lot of time.
What you need is to be SMART.
DELIVERED TO YOUR INBOX
from your Digital Marketing Coach Torie Mathis!
Let's get SMART!

*Posts may contain affiliate links. If you use these links to purchase, I may earn a commission at no additional cost to you.